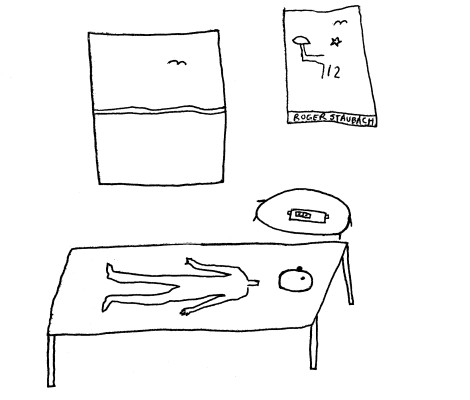 A selection from David Berman's The Portable February

"Somehow I had offered to deliver bad news to a maniac."

It could be a line from David Berman's Actual Air, his endlessly rereadable collection of poems, published in 1999. You can even imagine Berman's deadpan, dead-on singing voice delivering that non-punchline punchline on one of his albums with his band, the Silver Jews.
But the jokiness of this statement, as it appears in his new book of drawings, The Portable February (Drag City), instantly starts seeping away, replaced by something stranger. In the context of Berman's crude de Chirico flatland, new meanings reverberate. The words are scrawled on a billboard (or perhaps projected) on the side of a building, somewhere near the center of town, under a jagged cloud formation part coxcomb, part coastline. In the foreground a horse-drawn sleigh pulls away, its toqued and bearded driver seamlessly merged with the vehicle itself, which looks like a gondola escaped from some decommissioned Tunnel of Love. The entire thing defies deciphering. Who is the maniac, and what is the bad news?

It's a mystery, the kind that we've seen in Berman's songs, poems, and now his comics, a selection of which we're showcasing here.

A cynic might see The Portable February as a quickie offering scraped from the bottom of the barrel, especially as it's being released by Berman's record label, Drag City, in the wake of his recent surprise announcement dissolving the Silver Jews. If so, it's a pretty impressive barrel. Like the SJ songbook and Actual Air, The Portable February is easy to like and hard to shake. These cartoons are more spontaneous than Berman's musical and poetic output—stick figures and wobbly lines dominate, and I counted more than one corrective scribble simply left to stand. (In "The Overthrow of Fine Dining," most of the captions have been blotted to illegibility, as if subjected to a censor.) But the humor and staying power of the best of these drawings (or, as I just mistyped, "rawings") has much to do with their complicated framing and conceptual playfulness. (The closest song equivalent I can think of might be "Old New York," part of a split single, in which Berman and sometime Silver Jew Stephen Malkmus trade off-the-cuff lyrics, step on each other's lines, and basically give the aural impression of two guys lying on their backs, staring at the ceiling, charting loopy new Gotham territory until the tape runs out; weirdly, this 1994 rarity is imbued with nostalgia, despite the unlikeliness of the scenarios conjured by the words: "Stop by Howard Johnson's. . . . You might even meet Mick Ronson.")

In drawing after drawing, sign and signifier get tantalizingly tangled. In "David David Can You Hear Me?," with its six panels, six words, and six images, a bearded face appears three times, tracking first as farce and eventually as menace. It's a children's card game gone off the rails, a skeletal Magritte. A section of one omnibus drawing (in which Berman packs up to 16 panels with loosely related or apparently unrelated drawings and captions) depicts a jagged route connecting small circles, purportedly illustrating how "Mail flows effortlessly from town to town"; right next to it we get the same path, with a shakier line, dubbed "Study for 'Mail flows effortlessly from town to town.'"

Berman is able to pull off such automythologizing—maximizing the humor and getting to keep the myth. In Actual Air, he bestows on a selection of 11 non-contiguously Roman-numeraled dazzlers the hilariously grandiose (yet still grand) title "From Cantos for James Michener: Part II." A mainstream American novelist, famous in his heyday for his heavily researched (and just plain heavy) doorstops, is resurrected, however obliquely. What might at first glance look like a congeries of riffs is as sharp as the Polaroid you can't throw away ("The nurses are so beautiful, he thought. / Try to remember that they are covered in germs"), as honed as an axiom ("An evening train is a literary device"). Could this sampling of "Cantos" actually be a commentary zeroing in on the secret nerve centers of Alaska, Texas, Hawaii, et al.? In his appealing termite way, Berman has gone and made his subject America itself. The recurrence of states in The Portable February gently underlines this, as in "Classical Illnois": a weird soldier figure, half-man and half-tree (or—squid?), radiating mysterious particles from his eyes, stands sentry next to an outline of the land of Lincoln.

Some of these drawings are hits of pure joy, such as "Dancing to the Thompson Twins"—a high-stepping bug with arms aloft, surely close to one's self-image when partaking in the described activity. Most have a touch of acid, if not darkness, around the edges of the joke. In another omnibus drawing, a deadpan list ("Hornet Boy," "Rake Boy"), and a glimpse of the setup for a "Graveyard Film" give way to three blank panels, scenes from a dream or pages from a catalogue or a catalogue of dreams. Then the nightmare promised by the cemetery scene swells in the last two panels: a stick figure barking, "Back up, Back up" as shapes float out of its mouth; a swastika made of guitars.

And sometimes an entire microscopic cultural-historical moment, if not a whole life, seems encapsulated in one panel, a handful of sentences. "I lay in bed & listened to my clock radio,' reads one caption. "They played a song called 'Sara' every night. The lyrics went 'drowning in a sea of love, where everyone would love to drown.' It seemed evil, for someone to want to drown."

The tone is reminiscent of the poems, but a touch more naïve. The objects that populate the room push against the tone. A figure lies on a stiff-looking bed, head detached from neck as though murdered. On the wall is a poster of the Dallas Cowboys' quintessential quarterback, Roger Staubach, perfectly abbreviated: ball atop arm, the number 12, team emblem afloat where helmet should be. Next to the poster is a window looking out at the sea, the sky indicated by a lone rounded M of a bird aloft. Or maybe this scene is just another poster, a study for drowning in a sea of love.
Originally Published: July 7, 2009