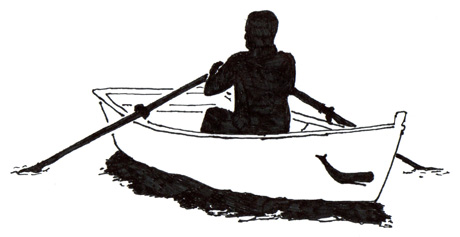 Original illustration by Paul Killebrew
Several centuries ago, in his "Preface to Ovid's Epistles," John Dryden laid down his plan for the rhetorical form imitatio, in which a translator "assumes the liberty not only to vary from words and sence [sic], but to forsake them both as he sees occasion . . . taking only . . . general hints from the Original." Dryden's notion of the translator (much abbreviated here) suggests that translation—and imitation—are creative acts among a spectrum of types of literary echo: works that enlarge, remake, rewrite, and retell their predecessors—rendering old things newly.
In that particular preface, Dryden was really talking only about literal translation of one poem to another, but his advice to forsake and vary forms also suggests a wider tent. In a sense, literature is made up of degrees of imitatio: mirrors, homages, wholesale retellings. The experience of noticing retellings—and mis-retellings—is but one part of readerly pleasure. And mistelling—both forsaking and remaking sense—is a way of writing into a work one has loved. We enjoy Wide Sargasso Sea partly because it re-enters the world of Jane Eyre and partly because it surrounds it with new meaning, as if finding hidden rooms in the house of the book.
Two recent poets build such new rooms as they create large-scale works around two canonic 19th-century tales. In A Monster's Notes, a sprawling, fragmented 500-page tome, poet Laurie Sheck reimagines Mary Shelley's Frankenstein, while Dan Beachy-Quick's A Whaler's Dictionary expands and enlarges Moby-Dick.
According to her publisher, Sheck, who's published five previous books of poetry, is making a first run at something like a novel. But to anyone familiar with Sheck's work—and even those who aren't—A Monster's Notes, a compilation of letters, lists, and notes, feels less like a novel and more like an extended prose poem.
Sheck's premise is that the monster is a real creature who first hides out at the North Pole, hovering in glacial regions, and later occupies the similarly alienating terrain of New York City. He is both eternally alive and imbued with the power to see distant hands at work writing—he literally watches the disembodied hands of Claire (Mary Shelley's real-life step-sister), of Shelley's Frankenstein character Clerval, and of Mary Shelley herself. The hands he watches write letters, lists, and journals, and the monster relates these notes outward, becoming, in effect, a super-omniscient narrator. He muses on topics as big as the coldness of our separation from others, the way that language both joins and divides us, and what it means to read or to pursue knowledge at all.
Reading A Monster's Notes, it's hard not to notice its similarities to Beachy-Quick's A Whaler's Dictionary. Beachy-Quick, who's also written four books of poetry, has crafted a fascinating proto-criticism, a "dictionary" that acts as a compendious topical accompaniment to Moby-Dick. The book, a series of alphabetically arranged meditations, reflects and enlarges the imaginary world around our famed great white whale.
Both secondary works hover on the very far edge of "translation"—of the content of their original. Each also "translates" its form. While neither book purports to contain "poems," each can be read, at least partly, as poetry. Sheck's lists and fragments feel like fractured Sheckian poems, and while Beachy-Quick's "Dictionary" doffs its hat at academicism, his entries recall prose poetry in their sonic density. On the back of his book—classified "Essay/Criticism"—Lyn Hejinian writes: "Cast in the guise of an affect-free dictionary, it is in fact a love poem—a poem written not about love but as love, for a book."
A bit of a sample entry, entitled "Nothing/Ness," shows off this prose-love-poemy quality:
The knife, the lance, the harpoon, the pen's nib, the sperm whale's and the shark's scythe-sharp tooth, do not create the wound they inflict. The wound is created by the space the cutting implement opens. The nature of the wound, and the suffering it causes, comes from the breach created within physical matter. The wound opens a space on the body through which life leaks.
And so, delightfully, on.
These are imitations that also retell, retellings that delight in bending genre. Both A Monster's Notes and A Whaler's Dictionary steer themselves into liminal zones around their original texts. In their undecided forms, in their repurposing of a former tale, each sequel poses as a kind of illegitimate literary monster. They are in effect literary monstrosities. Like their mysterious, miscreant predecessors, they defy definition.
Of course, this is part of the fun. The monstrous imitation actually springs out of regard for the original book, from a particular aliveness to its possibilities. It is actually striking how many similarities the original novels share. Moby-Dick echoes many of the anxieties in Frankenstein. Both are, of course, about science and monsters, and equally about humans whose ambitions render them monstrous. Both examine the limits of exploration, dismemberment, and the relationship between hunter and hunted. Each book reflects suspicion of where, exactly, the human desire to know may lead us.
Originally Published: September 30, 2009
1
2
3
next