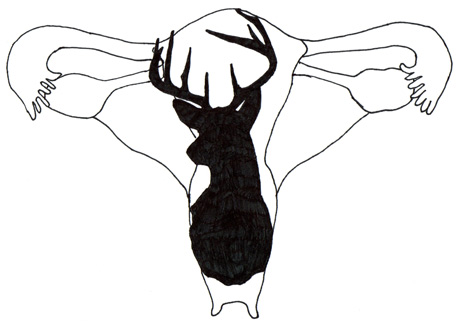 Original illustration by Paul Killebrew
CA Conrad came over to my apartment in Manhattan's East Village one afternoon in April. I'd admired his poems for years, having met him on another afternoon in New York when he sought me out of enthusiasm for my work. Conrad always seeks out his favorite writers. It seemed a very traditional and direct method of establishing lineage.
The founder of the Jargon Society, Jonathan Williams, died in early 2008. His death provoked a different press, Chax, to publish Conrad's opus, The Book of Frank, which Conrad had been working on (and reading from) for 15 years.
Conrad's work has been coming into greater prominence in the past few years due to the publication of Deviant Propulsion, his first full collection, and also his presence on PhillySound, a blog he runs with his friends that is full of new poems, Conrad's enthusiasms for other poets, political messages and analysis, and poetry exercises. His "(Soma)tic" poetics have a quickening effect on poets at all moments in their "careers."
I've grown to love CA Conrad—the man, the work, and all he attempts and represents—because he always argues (from the inside of his poems) for a poetry of radical inclusivity while keeping a very queer shoulder to the wheel. His kind of queerness strikes me as nonpolarizing, not intentionally but because of the fullness of his exposition, a kind of gigantism that seems to me to be most deeply informed by love, and a tenderness for the ravages and tumult of existence. I made a plan to talk with him on the occasion of The Book of Frank coming into print, and I'm glad I've procrastinated finishing this piece so that it didn't come out in June, where queers belong. Conrad and his creations, I hope you'll agree, belong everywhere. I've never seen him occupy a room—especially one he reads his work in—where he hasn't affected a sea change in most of its inhabitants by the time he's done. Sex, increasingly an undesirable subject in the poetry world, is so frequently glowingly present in the structure of this new book. One poem describes getting a ride hitchhiking in a truck covered in semen stains. His poems bring us into that world:
"Looking for these?"
the driver asks
pointing to
eager swimmers
long-since dried on
radio
ashtray
cup holder.
***
Eileen Myles: Sex is problematic. I mean, isn't it? In the world, and definitely the poetry world. Yet it's everywhere in the world of your poems. Sex is the desire to survive—not just to multiply, but to be. Yet a queer person is always told to ACT LIKE US—for your own good—so you won't bring all this grief upon yourself. Be like this, and not that. This kind persuasion goes beyond simply telling us what we should do and look like, but informs us of what we should read and write. It gets under your skin. There's a threat inside of it. People are all afraid of what they will become . . .
CA Conrad: I feel like I was created. I just wanted to have my life, but once straight people found out I was gay, I became the fag, you know what I mean?
EM: You're a character that the culture created.
CA: But I'm at this age where I'm like—that was great. Thank you. It got me the hell out of there, and now I don't have to stay here and work in the coffin factory with everyone else in this shit-hole town.
EM: Yeah, well, queer people need to transport themselves to survive, and like anything getting transported, it eventually gets caught, seen. I think we do what we do in our work to subvert that capture. But yours just saves my life, your excess. I think about when somebody asked Bob Creeley how he became a poet, he said, "Well, one night in college I found myself on some other street, and I decided to spend my life there." You began your life there: CAConrad, "whose childhood included selling cut flowers along the highway for his mother and helping her shoplift." Those facts of your existence change the story so radically, you know. What Blake was to the 19th century, you're being to the 21st. Kind of an outsider shaking his fist at capitalism and the ludicrousness of it by examining its smallest unit, which is an individual, or the family. Does that resonate for you at all?
CA: Well, it's humbling to hear that from you.
EM: Yeah [breathes a deep sigh of relief].
CA: You know, a big secret to the beginning of The Book of Frank is that it's kind of autobiographical. But it's almost irrelevant that it is.
EM: That it's autobiographical?
CA: OK. Yeah. Well, some people have problems with the characters in the beginning. Which is fine. I'm writing what I'm writing. . . .
EM: What does that mean, that people are having problems with the characters?
CA: People come up to me after readings and ask, "Why are all the women like this?" And I say, "Because that's my mother." I mean, my mother is not this sacred text that everybody likes to pull from for their mothers, or whatever. My mother's my mother. I mean, I lived in a car for half a year with her and it was not fun, you know? I would sell flowers for her on the side of the highway because she had a police record and couldn't find work, and it was a full-time job. Child labor laws meant nothing to her, and I really had to rebel once I got older.
Originally Published: October 21, 2009
1
2
3
4
next