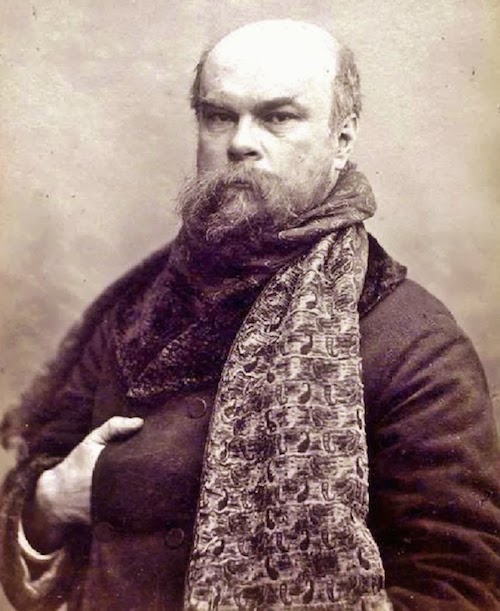 The French poet Paul Verlaine spent 555 days in jail after shooting his then-lover Arthur Rimbaud in the wrist following an argument. He composed his best poetry there, argues Bernard Bousmanne, the curator of a new exhibition in Mons that looks back on Verlaine's time in cell 252. More:
Unlike his contemporary and friend Oscar Wilde, who was sentenced to hard labour in Reading jail, the Frenchman – who had been convicted of shooting his fellow poet and lover, Arthur Rimbaud – had a relatively easy incarceration. Away from the Parisian cafes, the beer and, particularly, the absinthe that was to destroy his health, Verlaine converted to Roman Catholicism and spent his 555 days behind bars reading, and writing work that would later earn him the title of "prince of poets" among his peers.

Now Mons is staging what is claimed to be the biggest ever exhibition on Verlaine, including many privately owned manuscripts, photographs, letters and documents that are rarely, if ever, on public display.

[...]

On the outside, little has changed at the public prison in Mons. On 25 October 1873, it was a relatively new building when the horse-drawn police wagon transporting the convicted poet was driven through the massive wooden gates at the start of a two-year sentence. In what became known as L'Affaire de Bruxelles, Verlaine, just 28 years old, was convicted of attempting to murder Rimbaud, then 18, for whom he had abandoned his beautiful young wife, Mathilde, and only child, Georges.

The men, who had a violent, drink-fuelled relationship, had recently returned from self-imposed exile in London, where they had enjoyed the delights of the French quarter in Soho. They were staying in a seedy hotel in the Belgian capital. After yet another drinking session, a row erupted. In the drunken altercation that followed, Rimbaud said he was leaving and Verlaine pulled a pistol and fired twice. One bullet hit the floor; the other Rimbaud's wrist.

Verlaine was arrested as he pursued Rimbaud to the railway station. When police searched both men, they found letters written to each other and Verlaine was subjected to a humiliating body search by a police doctor who wrote: "P. Verlaine bears on his person traces of habitual pederasty, both active and passive." [...]
Continue at The Guardian.