"My paintings repeat a feeling about Lake Michigan, or water, or fields   ...   it's more like a poem, and that's what I want to paint."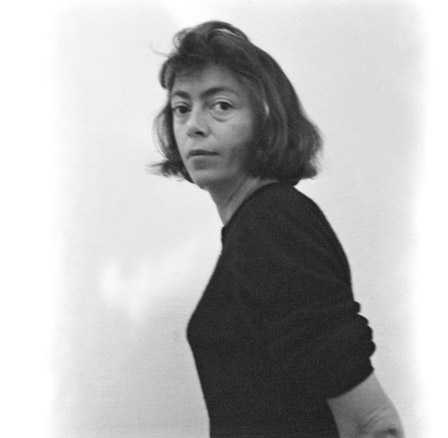 View slideshow
Joan Mitchell was born in Chicago in 1925 to Marion Strobel and James Herbert Mitchell. Her mother (a fiction writer, editor, and poet) was an associate editor at Poetry magazine from 1920 to 1925 and remained affiliated with the magazine for more than forty-five years. Because of Strobel's involvement in literary circles, Mitchell grew up in a home filled with books and often visited by poets and writers, including T.S. Eliot, Thornton Wilder, Dylan Thomas, and Edna St. Vincent Millay. Mitchell's father was a dermatologist, as well as an amateur artist who encouraged her to observe the visual world closely and to dedicate herself to a chosen path. When she was young he took her to the zoo, the Field Museum, and the Art Institute of Chicago, where they would draw and paint watercolors together, and look at paintings by Mitchell's early favorites: Van Gogh, Cézanne, and Matisse.
As a child, Mitchell wrote poems, including "Autumn," published 
in Poetry in 1935 and reprinted in this portfolio. Although she stopped writing soon afterward, poems and literature would remain sources of inspiration and comfort throughout her life. Her library contained well-worn volumes by Rainer Maria Rilke, William Wordsworth, Frank O'Hara, James Schuyler, Jacques Dupin, Pierre Schneider, T.S. Eliot, Samuel Beckett, and others.
As an adult, Mitchell developed friendships with many poets and writers, including O'Hara, Schuyler, Beckett, and the authors whose reminiscences are included in this portfolio: Paul Auster, Bill Berkson, Lydia Davis, Nathan Kernan, and John Yau. (She and Marjorie Perloff did not know one another.) She collaborated on 
numerous illustrated books of poetry, made pastel drawings on typed poems, and often read poems when preparing to paint. She titled several paintings after poems particularly meaningful or beautiful to her.
Although Joan Mitchell lived most of her adult life in France, her childhood memories of  Lake Michigan — and the trees and vast fields of the Midwest — were always with her as part of the inner landscape that she drew upon while painting. Feelings of places, especially the Chicago of her childhood, never left; as she often said, "I carry my landscapes around with me." Her paintings are visual distillations of feeling and experience, abstract translations of the flux and movement of the natural world, of  light, color, space, and form. They transform remembered landscapes and experiences through a masterful use of color and remarkable ability to attain balance and stillness in the midst of dynamic motion. They are at once contemplative and exuberant, restless and calm, strong and fragile, defiant and tender.
Like a poet, Joan Mitchell strove for precision. Her canvases contain nothing superfluous. Although her work might initially appear spontaneous and immediate, she worked slowly and deliberately, with an intense focus on the relationships of colors to one another, on the structure and space of the whole canvas, on gesture and line. Her multi-paneled paintings bear a particularly palpable kinship to poems in their structure and inherent rhythm. Like poems, her paintings are organic constructions in which each element — in this case brushstrokes rather than words — is necessary and essential, in delicate balance with those surrounding it.
Mitchell was generally averse to writing about art. She believed that paintings should be seen and not read, that they are ultimately 
indescribable, complete in and of themselves. As John Ashbery wrote: "Paintings are meaning and therefore do not have a residue of meaning which can be talked about." Still, Mitchell did greatly admire some writing about art, and the writing she respected most was by poets: Jean Genet on Giacometti; Antonin Artaud on Van Gogh, Rilke on Cézanne. In fact, this passage from Rilke's Letters on Cézanne could describe Joan's work as well as it does Cézanne's:
As if these colors could heal one of indecision once and for all. The good conscience of these reds, these blues, their simple truthfulness, it educates you; and if you stand beneath them as acceptingly as possible, it's as if they were doing something for you.… It's as if every place were aware of all the other places — it participates that much; that much adjustment and rejection is happening in it; that's how each daub plays its part in maintaining equilibrium and in producing it; just as the whole picture finally keeps reality in equilibrium.
---
Joan Mitchell: At Home in Poetry will be on view in the Poetry Foundation gallery February 4 – May 31, 2013. The exhibition includes the large-scale quadriptych painting Minnesota (1980), as well as photographs, letters, and books of poems illustrated by Mitchell, and explores her relationships and collaborations with poets.
---
The editors thank the Joan Mitchell Foundation for its extensive help in developing this portfolio and the accompanying exhibition at the Poetry Foundation. All artworks featured are © Estate of Joan Mitchell. Photographs are courtesy of the Joan Mitchell Foundation.
Originally Published: February 1, 2013