Enter Sandman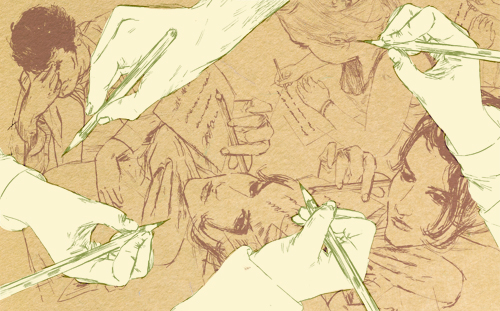 Illustration by Marianne Goldin.

I. The pencil had a life of its own
A few years ago Burrell Webb, a retired landscape artist living in Oregon, discovered that a poem he wrote and never copyrighted had become one of the most widely circulated verses in the English language. He says he composed the lines in 1958, after leaving the navy and being dumped by his girlfriend. "I was stressed, distressed, and single," he says. "When I received those divine words, I broke up the lines and made a kind of poem out of it." The finished product, which he published anonymously in a local newspaper—he felt it was God's work, not his—tells the story of a man who has a dream that he and God are walking along the beach. When the man asks why sometimes there is one set of footprints and other times there are two, the Lord says he has been carrying him through his struggles.

Forty years later, Webb was alarmed when his son informed him that the poem was on napkins, calendars, posters, gift cards, and teacups. Usually "Footprints" was signed "Author Unknown," but other times the credit was given to Mary Stevenson, Margaret Fishback Powers, or Carolyn Joyce Carty, who have all registered copyrights for the poem. (Registration does not require proof of originality.) The three versions differ mostly in tense, word order, and line breaks. With no way to prove that the work was actually his, Webb paid $400 to take a polygraph test. Now he routinely sends the results ("No deception indicated") to those who question his claim.

Although several people have suggested to Webb, as consolation, that God gave the idea to multiple authors in order to more efficiently spread His Word, Webb is unsettled by the idea that "the Lord would be the author of confusion." However the verse came into being, its message has reached all over the world. "Footprints" is the kind of poem we all seem to know without remembering when or where we first saw it. We've read it dozens of times, never paying attention. The verse is dislocated from context, so familiar and predictable that the boundary between writing and reading seems to disappear.

Yet the authors who claim to have composed "Footprints" have memories of the precise moment when they dreamed up these lines. Mary Stevenson, a former showgirl and nurse, said she composed the verse in 1936, following the death of her mother and brother. According to Gail Giorgio's 1995 biography Footprints in the Sand: The Life Story of Mary Stevenson, Author of the Immortal Poem, Stevenson was inspired by a cat's footprints in the snow and scrawled out twenty lines, as if the "pencil had a life of its own." She was so pleased with her work that she handed out the poem heedlessly, jotting it down for anyone she met without thinking to sign her name. (Early in the book her father tells her, "Poetry's nice to read, but essentially it's just rambling words on a piece of paper.")

Powers, a Baptist children's evangelist, was more savvy about licensing the verse—she sold it to HarperCollins Canada in 1993—and she describes "Footprints" as the culmination of a life of religious devotion. In her memoir, Footprints: The True Story behind the Poem That Inspired Millions, she enthusiastically recounts all the tragedies she endured while never losing her belief in the Lord. In the course of 100 pages, she gets struck by lightning, develops spinal meningitis, gets hit by a truck, and has a near-death experience with a bumblebee. Her daughter gets crushed by a motorcycle and later slips down a 68-foot waterfall while her husband, watching, has a heart attack. In the hospital room a nurse pulls out "a little piece I have here in my pocket" and recites "Footprints" to ease the family's pain. When she casually mentions what a shame it is that no one knows the poem's author, Powers' husband croaks from his bed, "It's my wife."

Far from dead, Powers currently travels around the world giving sermons about the power of faith. She has licensed the poem to nearly 30 companies, including Hallmark Cards and Lenox Gifts. Her lawyer, John A. Hughes, a self-described atheist, won't say how much Powers has earned from her publications, except to guess that "Footprints" might be the "best-remunerated poem in history." When pressed, he compares its success to that of "The Star-Spangled Banner." He has written more than 100 companies, requesting that they replace "Author Unknown" with his client's name. "I am completely satisfied factually that Margaret is telling the truth," he says. He acknowledges that "Footprints" is not entirely consistent with Powers' other poems, which are composed of rhyming couplets, but he's confident it's within her range. (To prove that "Footprints" couldn't be written by Stevenson, he contemplated hiring Donald Foster, the forensic literary analyst who studied the letters of the Unabomber.)

"Footprints" is far less of a stylistic aberration for Powers than it is for Mary Stevenson, who wrote sporadically, or Carolyn Joyce Carty, who struggles with punctuation and spelling. Carty is the most hostile of the contenders and she frequently issues error-ridden cease-and-desist letters to those who post the poem online. (She signs her e-mails "World Renowned Poet.")

Carty wrote "Footprints" in 1963, when she was six. She says she based the idea on a poem written by her great-great-aunt, a Sunday school teacher. More than 20 years later, she copyrighted the verse as part of an 11-page document of stream-of-consciousness prose ("the gift, who are you, where have you come from, where are you going! I am a writers inkhorn that stands beside the sea"), which concluded with the text of "Footprints." She declined to be interviewed but characterized her writing style in an e-mail: "I like common denominators in subjects, I always look for the common bond when trying to create a universal message."

In describing her literary taste, Carty also articulates the intangible draw of "Footprints." The poem reads as if it were written by consensus. Light, peppy, and moderately Christian, "Footprints" succinctly dramatizes an idea that will never be original: When we think we're alone, we're not. God is here. The footprints metaphor is so ubiquitous that perhaps the authors absorbed the message at some point without realizing it, then later sat down and wrote it out again, seeking to appeal to the largest number of people.

II. Do I know you?
In "Cryptomnesia" (1905), a paper about accidental plagiarism, Carl Jung argues that it's impossible to know for certain which ideas are one's own. "Our unconsciousness . . . swarms with strange intruders," he writes. He accuses Nietzsche of unwittingly copying another's work, and urges all writers to sift through their memories and locate the origin of every idea before putting it to paper: "Ask each thought: Do I know you, or are you new?"

In the realm of Christian poetry, the process of distinguishing which ideas are original is significantly harder—the same body of collective epiphanies has been passed down for years. When artists open themselves up to the inspiration of the Lord, it's not surprising that sometimes they produce sentences that sound as if they've been uttered before. The first line of "Footprints," which varies slightly among versions, seems to announce the authors' access to the collective unconscious: "I had a dream," "One night a man had a dream," "One night I dreamed a dream."

One of the earliest articulations of the poem's premise—the idea that God reveals his presence through marks in the sand—comes from an 1880 sermon by Charles Haddon Spurgeon, a noted Baptist preacher.
And did you ever walk out upon that lonely desert island upon which you were wrecked, and say, "I am alone, — alone, — alone, — nobody was ever here before me"? And did you suddenly pull up short as you noticed, in the sand, the footprints of a man? I remember right well passing through that experience; and when I looked, lo! it was not merely the footprints of a man that I saw, but I thought I knew whose feet had left those imprints; they were the marks of One who had been crucified, for there was the print of the nails. So I thought to myself, "If he has been here, it is a desert island no longer."

Spurgeon's formulation, more nuanced than the Footprints poem, rehearses the same fear of being "alone, — alone, —alone," and then happily resolves it.

In other uses of the metaphor, the footprints image speaks to man's omnipresence, not God's. This seemingly banal metaphor has become a truism in secular writing as well. In an 1894 essay about composing his first book, Robert Louis Stevenson (whom Mary Stevenson, coincidentally, claims as a relative, and whom Carty cites as an influence) refers to footprints in the sand when acknowledging how hard it is to avoid borrowing from previously published work. After admitting adopting characters from Washington Irving ("But I had no guess of it then as I sat writing by the fireside"), as well as "trifles and details" from Daniel Defoe and Edgar Allan Poe, he invokes the footprints image. It's as if he already associates the phrase with authorial confusion:
I am now upon a painful chapter. No doubt the parrot once belonged to Robinson Crusoe. No doubt the skeleton is conveyed from Poe. . . . These useful writers had fulfilled the poet's saying: departing, they had left behind them Footprints on the sands of time, Footprints which perhaps another—and I was the other!

The "poet's saying," which Stevenson refers to, is Henry Wadsworth Longfellow's "A Psalm of Life": "Lives of great men all remind us / We can make our lives sublime, / And, departing, leave behind us / Footprints on the sands of time." It's fitting that in defending himself against plagiarism, Stevenson deploys a quote that has spawned so many interpretations. "Footprints on the sands of time" is a perfect image for cliché: terrain trod over and retraced, flattened with overuse.

But those claiming to have written "Footprints" argue that the image came to them as suddenly and surprisingly as a new gift. Burrell Webb rejects the notion that he somehow inherited an existing metaphor. It's far more likely, he says, that people are trying to profit from his work. "I've never heard of the fellow [Spurgeon], so he couldn't have possibly inspired me," Webb says. "That allegorical poem was strictly a prayer relationship with myself and the Lord when I was feeling bad and crying for help and whining a little bit, which everybody goes through."

Although nearly all of these authors claim they wrote the poem in longhand, dictated by God, the controversy didn't surface until everyone began putting their versions online. There are hundreds of "Footprints"-inspired Web sites. One has a soundtrack of waves lapping against the shore; another features lines of the poem jiggling to the beat of Christmas songs. In Andrew Keen's 2007 book The Cult of the Amateur, he writes that the Internet has induced a state of communal amnesia; we've lost "our memory for things learnt, read, experienced, or heard." Perhaps the "Footprints" writers are living a version of this peculiar situation. There's not only an abundance of amateur authors, but they've all written the exact same thing.

Along with Webb, Carty, Stevenson, and Powers, at least a dozen other people have claimed, less rigorously, to have penned this poem. None of their accounts are particularly convincing, yet they all seem to genuinely believe they wrote the poem. They describe the words coming out effortlessly, even uncontrollably, as if they were finally articulating something they'd always known.
Rachel Aviv's writing has appeared in The Believer, Bookforum, The New York Times, and The New Yorker.
Enter Sandman
Rachel Aviv's writing has appeared in The Believer, Bookforum, The New York Times, and The New Yorker.