Gogol News
Introducing My Nose and Me, winner of the Poetry Foundation's first Verse Drama Prize.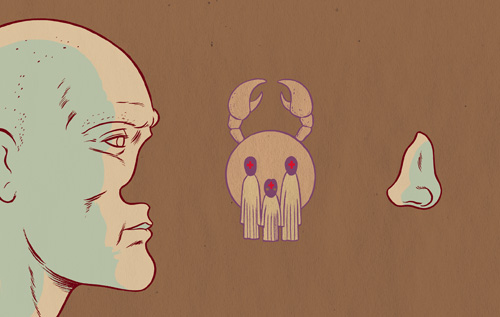 Illustration by Paul Hornschemeier.
"Whenever we're sick, we believe, one way or another, that our bodies are betraying us," says the poet-playwright
John Surowiecki
. "Our bodies have become a temple of something that is evil and awful, and we have to disassociate ourselves from whatever is causing it." This estrangement between mind and rebellious body is the inspiration for Surowiecki's
My Nose and Me
, a mordant riff on Nikolai Gogol's short story
The Nose
and the winner of the Poetry Foundation's first annual Verse Drama Prize. (My Nose and Me will be performed on Saturday, February 2, at the AWP Annual Conference & Bookfair at the Hilton New York.)
The protagonist of Surowiecki's play, known only as Me, suffers not only the dread, despair, and indignity of cancer treatment but also the temporary disappearance of his nose, aka My Nose. "All of a sudden he thumbs himself at me! / Then ups and leaves!" laments Me, who languishes in the hospital while the errant proboscis travels the world. There's also a Greek chorus of sorts: a lecherous doctor; his yin-yang pair of attending nurses, Yolanda and Irena; and the unholy trinity of Mister Death, Cancer the Crab, and the mysterious Herr Timple (more on this last ghoul later).
"It's a dark comedy, but not a black comedy," says Surowiecki, who subtitled the play
A TragedyLite or TragiDelight in 33 Scenes
. "In the Gogol story, I don't know why the nose leaves. In this one, there is a reason for it."
Having escaped from his bewildered owner, My Nose journeys to Egypt (where he's fascinated by the noseless Sphinxes), the Dead Sea ("where God learned the backstroke"), and—in a nod to the Shakespeare in the play's DNA—the Globe Theatre. But audience members at the upcoming readings of
My Nose and Me
in New York and Chicago will have to do all this globe-trotting inside their own minds. "A staged reading is by its nature sparse," says director Bernard Sahlins, "but after a couple of minutes, the audience is into it as deeply as a full production. It's a phenomenon that constantly amazes me."
Sahlins, co-founder of Chicago's Second City Theater, is no stranger to verse drama, having previously directed readings of
The Burial at Thebes
(
Seamus Heaney's
translation of
Antigone
) and
T.S. Eliot's
Murder in the Cathedral
, which was performed in five Chicago churches. "Until 200 years ago, you didn't go to
see
a play; you went to
hear
a play," Sahlins says. "The audience's almost immediate acceptance of the setting makes you realize that 90 percent of a successful play is a good script and good actors. They adapt; they respond to the challenge to the imagination."
The play itself is something of a work of adaptation, and not only in its debt to Gogol. It originated as the poem sequence
Further Adventures of My Nose
, published by the splendidly old-fashioned Brooklyn letterpress collective Ugly Duckling Presse and brought to cartoon-Cubist figurative life by the illustrator Terry Rentzepis. When Surowiecki saw an advertisement for the Foundation's verse-drama competition, he immediately thought the book could enjoy further adventures as a play. "Dramatically, it works much like
The Threepenny Opera
—I wanted that same staccato rhythm of scenes coming in and out very quickly," he says. For example, Scene 5, "A World without Odors," consists solely of Yolanda's sonnet-length musing on what it's like to be Me:
A darkness of another kind,
A place of dead shapes and flat tinny sounds
Where nothing rides on the wind, where lilacs
And the sea are only sad movies of themselves.
My Nose and Me
switches deftly back and forth between blank verse and terza rima. "The more comic and ludicrous the scene, the more the lines rhyme," explains Surowiecki (author of several chapbooks as well as a forthcoming "graphic poem,"
Tapeworm Comics
, an ode to the cestode as superhero). "It goes back to
Milton
. In
Paradise Lost
, he returned to blank verse, the Homeric ideal. Rhyme was frivolous, a little bit ridiculous. I've never been able to write in rhyme without it feeling comical to me. There are contemporary poets who can write beautifully in rhyme, like
Richard Wilbur
, and God love 'em, but I can't even approach it."
The juxtaposition of the ridiculous, the sorrowful, and the profound is
My Nose and Me
's signature balancing act. (And perhaps it is Surowiecki's, too: the title of his 2003 collection of poems is
Watching Cartoons before Attending a Funeral
.) Herr Timple, for example, is an agent of death whose menace is arguably undercut by his surname. He's also surprisingly erudite as malignant growths go, quoting from Shakespeare's "nasal passages" (one thinks of Falstaff on his deathbed, his nose "as sharp as a pen," as if pinched by the hand of the Reaper) as well as the Bard's late romances.
"In those last plays of
Shakespeare
, it doesn't really matter who wins or loses, just that everyone gets along at the end," Surowiecki says. "Their differences are unsettled, but they're settled just enough. That's what this play is about: just continuing on."
It's also, to some extent, about the author: the
Me
of the title hints at the autobiographical strains of the play. Surowiecki is a survivor of bladder cancer and, 15 years ago, lost his wife to cancer. "A lot of the information in the play is based on that experience, of being with her in the hospital," he says. About a month after he received the verse-drama award, Surowiecki's daughter was diagnosed with breast cancer—mercifully, in its earliest stages. "I told her, this will be great, you can start your chemotherapy and then come to New York and watch a play about chemotherapy," Surowiecki says with the same gallows humor that cuts through
My Nose and Me
.
Late in the play, Yolanda muses, "It's normal out there and when you're in here / Nothing's more remarkable than normal."
My Nose and Me
is a paean to normal. "When people finally lick cancer, everything is suddenly filled with meaning and joy, everything is brilliant," Surowiecki says. "It doesn't last long. Then the ordinary grayness comes back, 'the light of common day,' to use
Wordsworth's
words. The play is a celebration of that ordinary gray life. Our lives may be dreary at times, but let's embrace that dreariness."
Jessica Winter's writing appears in Time Out London, The Boston Globe, Slate, and elsewhere.
Gogol News
Introducing My Nose and Me, winner of the Poetry Foundation's first Verse Drama Prize.
Jessica Winter's writing appears in Time Out London, The Boston Globe, Slate, and elsewhere.