Rudy Can't Fail
Swiss-born artist Rudy Burckhardt put poets on film and made photos work like sonnets.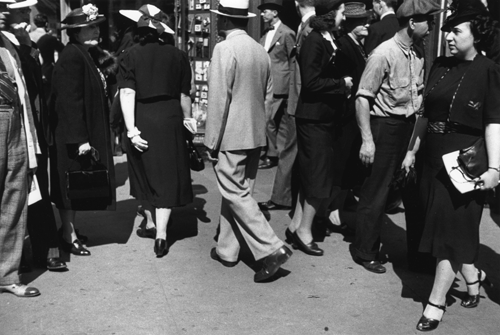 Sidewalk XIV, 1939, gelatin silver print, 16 x 20 inches. Courtesy the Estate of Rudy Burckhardt and Tibor de Nagy Gallery, New York.
The New York School poets made a big deal about art and artists, but there was only one photographer they abducted: Rudy Burckhardt. Poet and dance critic Edwin Denby said that Burckhardt made the only photographs he'd seen with visual interest all over.
John Ashbery
referred to him as a "subterranean monument." Ashbery,
Kenneth Koch
,
Alice Notley
,
Ron Padgett
, and David Shapiro all provided voice-overs for his movies, reading from their work. (Essayist and poet Phillip Lopate curated a retrospective of those movies at the Museum of Modern Art in 1987.) Simon Pettet and Vincent Katz each assembled two separate collections of his work. The affinity runs deep between poets and Burckhardt, the subject of "Street Dance: The New York Photographs of Rudy Burckhardt," an exhibition mounted from February 1 to April 13, 2008, at the
Museum of the City of New York
.
Pictures might be worth a thousand words, but Burckhardt's photographs are happy with just 14 lines. Each has the characteristic turn—the change of direction and perspective somewhere around line 8 or 9—that transforms a short rhymed poem into a sonnet. In one, a parking lot breaks off at a trash-covered hill leading down to dirt and railroad tracks scattered with tires. In another, a stooped crone, wearing a hat with a giant bow, is carrying a parcel in the crook of her arm; she looks out at the viewer from in front of a billboard featuring the enormous face of a young woman, eyes cast upward. His nudes, too, show wit—one shows a woman reclining face down, a bunch of bananas on her back.
The development of Burckhardt's poetics of photography took some similarly baffling turns. When Burckhardt (1914–1999) was 20, living in Basel, and just starting out as a photographer, Denby, an American poet 10 years his senior, knocked on his door, needing a passport photo taken. They hit it off. Denby passed the winter in Switzerland, talking endlessly with Burckhardt and taking him away from proper Swiss activities to the wrong side of the Rhine. They watched a six-day bicycle race together and went to the carnival in drag—all but scandalizing Burckhardt's well-to-do Swiss family. Already an anthologized sonneteer, Denby had dropped out of Harvard, smoked opium with Cocteau, undergone analysis in Vienna with the same psychiatrist who treated Rilke, and worked as a comedy dancer in Germany, where he met Bertolt Brecht and Kurt Weill. Burckhardt knew from early on that he wanted to make art and, more than that, to get out of Basel. It was clear that Denby offered credible inside knowledge about how to accomplish both of those goals.
Burckhardt inherited $20,000 in 1935—about $315,000 in 2008 dollars—and promptly left home to join Denby on 21st Street in New York. There, the poet continued to have a knack for being at the center of things before anyone else: "One morning, a black kitten wandered in from next door, and turned out to belong to Bill de Kooning." (Another friend: Orson Welles.) Though Burckhardt had spent time in big cities—he too was a dropout, having left medical school in London to walk around taking pictures—he was not prepared for the speed, light, temperament, and especially
scale
of New York. As he said in a conversation 60 years later with Vincent Katz, "In Europe, at that time, there were no high buildings at all, and people had a relation to the size of their buildings, the only exception being the cathedral." He spent three years in America getting the hang of this unaccustomed sense of space. Then he started to take pictures.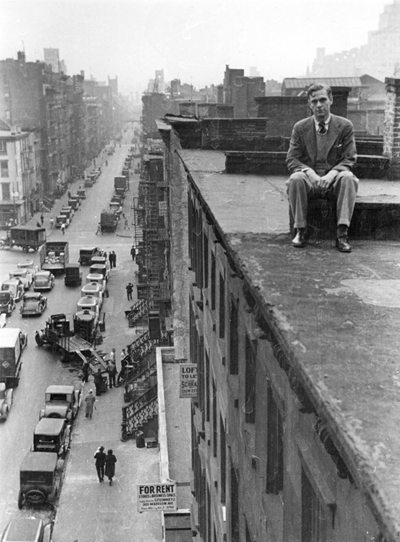 Edwin Denby on West 21st Street, 1937, gelatin silver print, 8 13/16 x 6 inches. Courtesy the Estate of Rudy Burckhardt and Tibor de Nagy Gallery, New York.
When the pictures started coming, they revealed a syncopated geometry slightly off the city grid. An early portrait of Denby on the roof of their building appears to have been taken from midair, the curious combination of perspective and flattened plane making the pedestrians below look at once perfectly normal and unsettlingly small. Subliminal illusions and affection for the askew lighten Burckhardt's work from his earliest New York pieces, which highlight architectural details of doorways and uneven sidewalks. Burckhardt politely ignored the themes then dominating photography: his work wasn't social commentary, and it wasn't simply pretty, either.
At the same time that Burckhardt began what would be a six-decade project of looking at people walking, Denby himself began working as a critic, writing about dance: first for
Modern Music
, then as the house dance critic for the
Herald Tribune
. He would eventually come to be recognized as one of the great dance writers of the century. Perhaps under Denby's influence, Burckhardt's street photography engaged the random choreography of city life with a combination of warmth and reserve, his camera pointed down slightly to record the sociology of clothes and how close people got, high heels walking over manholes, pumps passing near glass circles in the sidewalk, wingtips resting by gum-spots on the curb. When he turned his camera back up to eye level, it was to focus on words painted on shop windows. That he also caught the absorption of passersby going about their business was sheer gravy. By the time he was drafted into the army (he received an honorable discharge after working as a photographer on bases in the South), he had a pretty clear idea of what would be enough to make a good picture. As Burckhardt put it in an interview with Pettet, he "just took the camera and pointed it in the right direction."
Perhaps in response to his feeling that taking still pictures was "slightly unsatisfactory, because it's too quick, too instantaneous," Burckhardt began to pursue painting and filmmaking, eventually producing more than a hundred motion pictures. His exploration and gradual artistic change coincided with romance and marriage: first to the writer Edith Schloss, then to the painter Yvonne Jacquette. (The Museum of the City of New York held a retrospective of her New York City night paintings simultaneously with Burckhardt's show.) Through these changes, Burckhardt would remain friends with Denby up until the poet's elective death in 1983, meanwhile continuing to develop the sonnetizing quality of his still photography. At the same time, he would go on to elaborate in his motion pictures a freer, more fluid rhetoric.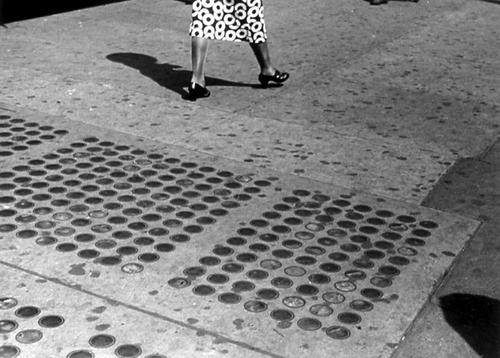 Circles, 1939, gelatin silver print, 12 x 16 inches. Courtesy the Estate of Rudy Burckhardt and Tibor de Nagy Gallery, New York.
Some of Burckhardt's movies are quasi-narratives, droll coterie activities with intentionally eye-rolling titles such as
Inside Dope
. They are better than that description might suggest, but compared to the larger part of his film work, they're sideshows. Most of his films are expansions in time of the same subjects he photographed—people and cars in the '40s, children climbing down into enormous holes in the dirt or jumping into the East River, buildings and the lights that swathe them—edited down to the right moments. Where the photographs insist on a tension between figure and ground, an excited, impassive inside-joke feeling, the films dissipate that tension, amassing beautiful and silly details en route to the sublime. That this could also serve as a description of John Ashbery's work is partly coincidental, partly an indication that there was something in the air. (Ashbery himself had a small role in one of Burckhardt's narratives,
Mounting Tension
, as "a young man with a baseball bat who hates modern art but gets dragged to the Modern Museum and ends up an abstract painter himself." The real star is scenery-chewing painter Larry Rivers, while painter Jane Freilicher is the epicenter of drollery.)
The suppressed-narrative montage style of Burckhardt's characteristic films—
Doldrums
and
Wayward Glimpses
are two of the best—will be familiar to anyone who spent time watching educational television in the '70s. Burckhardt was one of the original architects of the diaristic collage, and his examples are dreamier, and often naughtier, than others you may have seen. A forest path is suddenly graced by a nude woman—whose clothes just as suddenly reappear. The Maine state fair turns into a late-night dance party. Sometimes it just gets dark. Dancers appear, perform, and vanish. Music moves the action along: short works by Bach, Busoni, Elliott Carter, Alvin Curran. Even the films not narrated by poets can feel like music videos for poems. Of course, not every artist who opens up the storehouse of idiosyncratic vocabularies will make poems like John Ashbery's or those of the other New York School poets. There is something to get the hang of. In his MCNY catalog essay, Vincent Katz suggests that this right-place-right-time feeling is "original to Burckhardt, and would later be adapted to become the central contribution of the poetics of mid-century's great poet of the city,
Frank O'Hara
." Katz's thesis is a bit of a stretch, but it does point to a shared preference in Burckhardt's and O'Hara's work for the pleasures of being in the moment.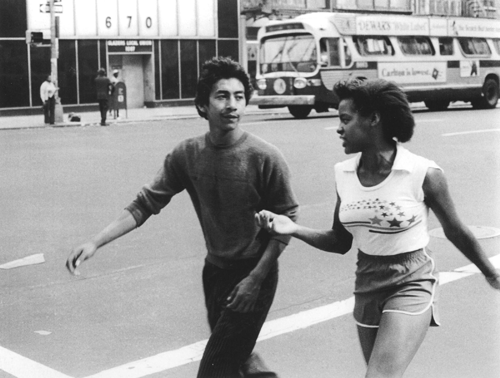 Untitled, c. 1978, gelatin silver print, 8 x 10 inches. Courtesy the Estate of Rudy Burckhardt and Tibor de Nagy Gallery, New York.
Recalling for Pettet his several film collaborations with the artist Joseph Cornell, Burckhardt noted that Cornell "liked to film birds; starlings, sparrows, swarms of pigeons, a lonely seagull in the sky. 'I'm a sucker for birds,' he confided." There's a page break, then Burckhardt continues: "A few things happened that were kind of miraculous." The characteristic word in that sentence is
few
. When told about Ashbery's "subterranean monument" remark, Burckhardt politely acknowledged the point, then went on:
Maybe there's no such thing as being "underestimated." That's just a fiction. Supposing a beautiful girl gives me a big smile. That's enough. It can make my day. She's not "underestimating."
The mutual discoveries of form that Burckhardt shared with the poets he knew are tangible; this insight into friendship and feeling is invaluable. Readers of the manuscripts of the poets mentioned here will find them illuminated in Burckhardt's work. All poets should be so lucky.
Jordan Davis writes about poetry for The Constant Critic. His essays and reviews have also appeared in Slate, The Nation, and the Times Literary Supplement.
Rudy Can't Fail
Swiss-born artist Rudy Burckhardt put poets on film and made photos work like sonnets.
Jordan Davis writes about poetry for The Constant Critic. His essays and reviews have also appeared in Slate, The Nation, and the Times Literary Supplement.