From the Archive: Vachel Lindsay
Selections from Lindsay's whimsies, first printed in Poetry

magazine.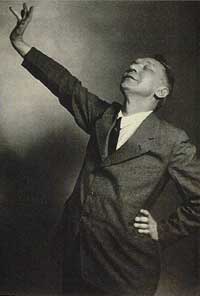 Vachel Lindsay's relationship with Poetry began in September of 1912, when Harriet Monroe wrote a letter to the then thirty-two-year-old writer, asking if he might be inclined to send some poems her way for publication. His "General William Booth Enters Into Heaven," an impassioned ode to the founder of the Salvation Army, was published in January of the following year, marking the first of over sixty appearances by the sometimes controversial, always provocative poet. But it was his appearance at a 1914 Poetry banquet honoring William Butler Yeats that truly established Lindsay's commanding presence in the poetry world, with a show-stopping, scene-stealing recitation of his long poem "The Congo." Following an address by Yeats that can only be described as quiescent in comparison, Lindsay took to the stage like a man possessed, his thunderous recitation accompanied by swaying, jerking, and flailing movements of his arms and body, leaving the crowd equal parts bewitched and bewildered. The performance certainly put all eyes on the self-proclaimed "callow youth," with the New York Evening Post observing that "When Mr. Lindsay had finished, he was surrounded by women who wished to be his hostess at dinner. The North Shore had discovered a lion who could roar!"

Over the next seventeen years of Lindsay's life Harriet Monroe proved to be a loyal friend and steadfast supporter of his work. She provided him with monetary support whenever possible, wrote the introduction to his book The Congo and Other Poems after advocating for it to be released by her own publisher, and acquainted him with her extensive circle of friends within the poetry world and beyond. While the perpetually broke Lindsay, described as "a skilled beggar, and proud of it," pounded the pavement from coast to coast "singing for his supper," Monroe decided that what he needed was the love of a good woman. She chose as her blushing bachelorette none other than the "poetess" Sara Teasdale. Lindsay was quick to fall in love with the delicate Sara, whom he fervently courted through both letters and visits to her New York home. But Teasdale proved less enamored with the financially unstable Lindsay, and after a rather melodramatic affair, she spurned her "absurdly sensitive" and "selfish" suitor. Their friendship endured, however, as the briefly-wounded Lindsay turned his focus away from the enchantments of love and towards the lure of fame. The boisterous peculiarity of his signature recitation style put him in great demand, and Lindsay took his show on the road.

In honor of our previous humor issues, this month's Web exclusive takes a look back at some early "light verse" from a poet whom The Observer once deemed to be "easily the most important living American poet." "What The Rattlesnake Said" comes from the July 1913 issue of Poetry, Lindsay's second appearance in the magazine. The following three selections appeared in August 1919 under the heading of "Whimseys." Though Lindsay apparently thought all three poems whimsical, "Kalamazoo" seems to contain the sort of outlandish prophetic voice that his serious poems were famous for; with a character like Lindsay, it's sometimes hard to figure out what was meant to be funny and what wasn't.

Featured Poems

What the Rattlesnake Said
Kalamazoo
Davy Jones' Door-Bell
The Horrid Voice of Science

From the Archive: Vachel Lindsay
Selections from Lindsay's whimsies, first printed in Poetry

magazine.