On Karl Shapiro's "Creative Glut"
"Paradoxically the Humanities must be on guard against what is called Creativity, a word which in our time has taken on the meaning of fraud."
—Karl Shapiro
A GLUT IN THE RUT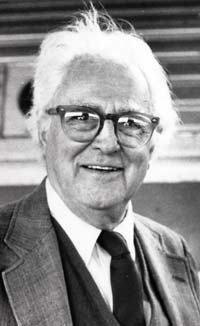 For this month's exclusive we turn to the ever-controversial one-time editor of
Poetry
,
Karl Shapiro
. His article, "
Creative Glut
", printed in October of '79, fiercely declaims the pitfalls of the still-adolescent phenomenon of teaching creative writing (the Iowa Writers' Workshop having first flung wide its doors some forty years earlier).
In the article, Shapiro asserts that teaching writing in the university is not a bad thing per se, but that if the universities are defective the writing will be too; and for him there was no doubt that this was in fact the case. He writes nostalgically about the scholarly poet and school of the mid-1900's that were both free from governmental encroachments as well as resistant to the artless, leftist politicizing of poetry. He laments academic poetry as being something that was once free from the new debate of class and social politics; and he chronicles its "degeneration."
Brash and at times belittling (labeling the humanist philosophy that was the low-humming drone behind much academy thought and teaching at the time as "touchy-feely") his address was less than warmly received. Both upon its first delivery at UC Davis in April of 1979 and its original printing in Poetry six months later, the piece sparked hearty and heartfelt debate among academics and poets.
Though it was not the first time such challenges had been issued and not even the first time in the pages of Poetry, rarely had they been delivered with such vigor which seemed, at times, inflammatory (and not unlike the separatist rhetoric he railed against). The question he poses so robustly—"How can campus poetry be better?"—is one that seems to require new answers as universities, ideologies and tastes change. It is a question we return to (among many others), with John Barr's article, "
American Poetry in the New Century
", in the
September 2006
issue of
Poetry
.
Please enjoy this selection from Shapiro as a companion to his piece.
Read Creative Glut >>
On Karl Shapiro's "Creative Glut"