From the Archive: Marianne Moore by The Editors
From the Archive: Marianne Moore
The first poems by this Modernist poet to be published in Poetry

magazine.
"You make me think of many men
Once met, to be forgot again"


—from "To an Intra-Mural Rat," by Marianne Moore, Poetry, May 1915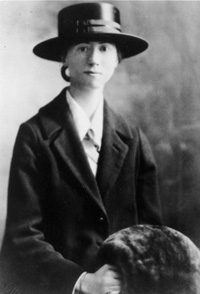 In May 1915, Marianne Moore made her first appearance in Poetry. Then twenty-seven-years old, Moore had been teaching for several years after having graduated from Bryn Mawr College, where she enjoyed some success in the campus literary magazines. But it was in Poetry's pages that Moore made her professional American journal debut, her poems appearing alongside those of fellow Modernist William Carlos Williams.

The second time Moore submitted poems to the magazine, Harriet Monroe rejected them. A rather aggrieved Moore fired back, "Printed slips are enigmatic things and I thank you for your criticism on my poems. I shall try to profit by it." Within a year tempers had cooled and the two women began to forge a professional friendship, with Moore contributing a handful of reviews to the magazine. Still, it would be sixteen years before she would again submit poems to Poetry. In 1932 she endeavored to appear in the magazine one final time, amid speculation that the 20th anniversary issue may indeed be Poetry's last. Those poems were published in June of that year, the 20th Anniversary came and went, and Poetry persevered. In total, Moore's poems appeared in the magazine on ten occasions, between that first appearance in May 1915, and her last, in October 1972, nine months after her death at the age of eighty-four.


From the Archive: Marianne Moore
The first poems by this Modernist poet to be published in Poetry

magazine.