From the Archive: 1959 Indian Issue
Selections from Poetry's

collaborative tribute to Indian verse.
"Poetry is so much a part of people's lives that crowds often assemble in the villages around a narrator who recites and interprets the epics, the Ramayana and Mahabharata, and who has survived the impact of the printing press and cinema. Such a recitation may take a few weeks."

—Tambimuttu, Poetry, January 1959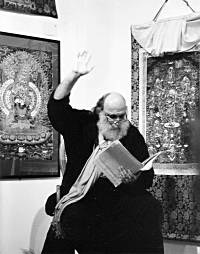 In 1954, while in India on a lecture tour, Poetry editor Karl Shapiro began to collect materials for a possible Translation Issue featuring contemporary Indian poets. Shapiro's initial curiosity set in motion a large-scale collaboration involving a number of contacts, including the Vice President of India and the U.S. State Department. Despite such assistance, compiling a representative sample of successfully translated modern Indian verse proved difficult: the project took five years and three editors to complete. It finally culminated in Poetry's January 1959 Indian Issue, the last in a string of translation issues the magazine published in the fifties.

In 1955, Henry Rago succeeded Karl Shapiro and soon brought on board Tambimuttu, a Sri-Lankan born poet and editor, to collect additional material and guest-edit the Indian Issue. "Tambi," a renowned figure known for founding and editing Poetry London in the forties, spent three years organizing the collection of Indian verse. In his note that follows the poems, Tambimuttu bemoans "the difficulty of finding suitable translators" for the eleven different Indian languages represented, but expresses hope that the compilation will help introduce modern Indian poetry to the English-speaking world. Tambimuttu explains how Indian poets had to escape the language of English Victorianism to find their own voices. "Poetry," he writes, "ha[d] always been a part of the social fabric" in India, but it was not until writers embraced the uniqueness of their local, everyday idiom that modern verse could adequately represent "the native Indian genius."

Fifty years later, Poetry returns to chart the development of this genius with the September 2007 Indian Poetry Portfolio. While the poems in the portfolio differ greatly from those in the 1959 collection, they remain in keeping with the Indian poetic tradition of "engagement with society," as portfolio guest editor R. Parthasarathy notes. Two poets included in the 2007 collection, the Marathi poet Vinda Karandikar and the recently deceased Punjabi poet Amrita Pritam, first appeared in Poetry as contributors to the 1959 Indian Issue. The poems of Karandikar, expressing the anguish of a spiritual absence, and Pritram, lyricizing romantic love, demonstrate how Indian verse has developed stylistically while still engaging universal, emotionally compelling subjects. By once again spotlighting Indian verse, Poetry is proud to strengthen its bond with a country whose poems continue to reflect the art's vital role in human life.

From the Archive: 1959 Indian Issue
Selections from Poetry's

collaborative tribute to Indian verse.