From the Archive: Karl Shapiro on Reviews
"I feel unhappy about the whole reviewing policy of the magazine: there are too many reviewers who aren't really critics...there is much too much literary bowing and salaaming between poets."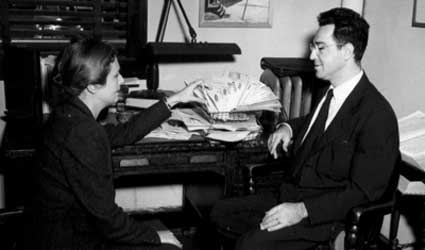 So wrote
Karl Shapiro
in April 1950, shortly after assuming editorship of
Poetry
. Shapiro's commitment to overhauling the back pages, bringing in new reviewers to write shorter, more subjective critiques, sparked its fair share of controversy during his five-year tenure as editor. But it was Edward Dahlberg's particularly scathing attack on
Conrad Aiken
's
USHANT
in February 1953 that brought protests from all corners, demanding answers for what many readers saw as an act of slander.
As
Poetry
for June 2006 clears away the prose to make room for poetry, our Web Exclusive travels back to the June 1953 editorial response to the Dahlberg review debacle, in which Karl Shapiro addressed the question on so many angry readers' minds, "Does
Poetry
Have a Policy?" Not unlike the recent controversy in the back of the magazine, this highlights the tension that always exists between poetry and criticism—though our critics seem tame in comparison to Dahlberg, even half a century later.
Conrad Aiken was a friend of Shapiro's; moreover, Shapiro claimed to have been "quite carried away" with
USHANT
. However, he did not hesitate in turning the book over to Dahlberg, who was known for his inflammatory views. And while Shapiro was surprised by the negative review, he was resolved to print it as is. Shapiro's acceptance letter predicted with much certainty the end of his friendship with Aiken: in response Dahlberg wrote, "All of us write badly much of the time, at least more often than not, so why should we blame and hate those who remind us of it when it is essential to do so."
In print, Dahlberg's "reminder" seems like an ad hominem attack on Aiken's character, virtue, even his virility. Shapiro may have expected Aiken's indignant reaction to the piece (Aiken even questioned whether he had a possible libel case against Dahlberg), but he did not foresee the firestorm of contention that was to erupt from
Poetry
's readers. While the number of misquotations in the review incited protest (and amounted to over two pages of corrections printed in a later issue), it was Dahlberg's tone, described as "offensive," "obscene," and even "violent," that received heated opposition in the form of letters to the editor. It was Shapiro's decision to print only one such letter, as a lead-in to his June 1953 editorial.
Click on the links below to read Karl Shapiro's editorial, as well as excerpts from Edward Dahlberg's review, "A Long Lotus Sleep."
FEATURED CONTENT
Karl Shapiro's editorial
Edward Dahlberg's review
From the Archive: Karl Shapiro on Reviews