From Sago to Xinjiang
Mark Nowak's documentary poetry shines a light on the coal industry.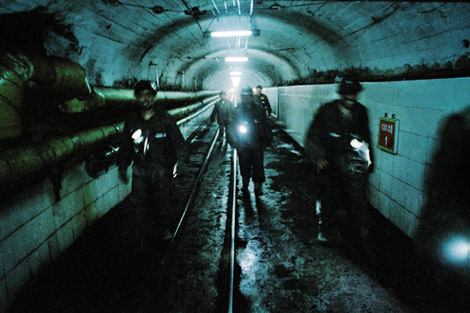 Photo by Ian Teh
Circleville, the tiny West Virginia crossroads that Dawn Amber Milstead hails from, stands somewhat removed from the coalfields of the state's center and south.
"It's in sawmill country," says Milstead, a young woman whose tousled hair and tattoos befit both her worlds: the small-town girl from the panhandle, and the college theater major. "But that doesn't matter—mining is the history of our state."
Just like West Virginia's geography, shaped by the black rock beneath its lush hilltops and hollows, nearly every West Virginian's identity has been shaped in some way by the coal industry. And it's this shared heritage that transformed the January 2006 Sago Mine disaster into a defining moment in the state's modern history.
"The day the Sago mine collapsed, we stopped classes—I was 16—and watched it all day on TV," says Milstead. "I remember, at the end of the day, thinking, 'They're alive, they're alive!' Then I woke up the next morning and walked into English class."
A dozen West Virginia miners died that day, a tragedy made even crueler by the accidental miscommunication that led families and media alike to believe, for a few hours at least, that those 12 miners had been rescued. In the disaster's aftermath, the state launched an investigation into Sago's circumstances, and the public hearings riveted West Virginians. So anyone from the state will likely recognize the way Milstead speaks of Sago: unfinished sentences spoken in a broad, friendly voice that is nonetheless checked by emotion.
It's the same voice Milstead uses when she and with five other actors from Davis and Elkins College in Elkins, West Virginia, perform their dramatic reading of Coal Mountain Elementary, the new book by Minnesota-based poet and labor activist Mark Nowak.
For CME, Nowak "sampled" language directly from the transcripts of the Sago hearings—straight from the mouths of the men who worked at the mine—along with language from news reports of mining disasters in China.  By interweaving these stories, the book imagines "Sagos" occurring every day throughout the world.  A third voice, taken from the American Coal Foundation's curriculum for teaching young students about the mining industry, organizes these sections of poems into "lessons." One section, for example, is introduced by the foundation's "Cookie Mining" lesson, a coal-mining simulation exercise using chocolate chip cookies and toothpicks. The section counters the terrible stories from Sago's rescue workers and the Chinese miners with the foundation's calm, patrician tone.
The book, then, is a simple lesson in radical labor history, a reminder that workers' lives are still treated as mere "costs," just as they were a century ago. But it's also a contemporary cry, using the Sago story—well known in America—as an anchor for imagining the daily grind of death in a global industry.
And then onstage at a small restaurant in Sutton, West Virginia, Coal Mountain Elementary becomes something else entirely.
As Milstead and her fellow cast members read from Coal Mountain Elementary in this small town in central West Virginia, their accents harden, their faces morph—and the Sago sections of the book follow. In the cast's hands, and in this environment, Coal Mountain Elementary becomes less a reading and more a ritual of catharsis—a performance that transforms its listeners' tragedies from the personal to the universal, and that shifts at least a little of the weight off their shoulders. That ritual is a responsibility the cast understands.
"By the end, I'm so emotionally wrapped up, I'm just inside of breaking down," says actor Craig Hyre, an Elkins optometrist born and bred in coal country. "I know these guys I'm [portraying]. These guys can't cry. You cannot let that happen. But how close can you get?"
* * *
To Mark Nowak, such a cathartic shift is part of poetry's mission—albeit one too often neglected. In a writing world populated by poets increasingly obsessed with their own internal creative monologues—"I wrote this poem," "I will get this poem published"—Nowak imagines writing that has the power to change these I's into a resonating We.
As a young man growing up in 1970s and '80s Buffalo, New York, Nowak watched as the opposite happened—as the We of that tough-as-nails union town turned into a series of disconnected I's—when Bethlehem Steel closed the Lackawanna mills where his grandfather had worked and the town seemed to lose its collective identity.
Nowak tried to channel those disconnected feelings by making dark electronic music similar to what his heroes—German synthesizer pioneers Kraftwerk, early hip-hop producers, and denizens of Detroit's postindustrial techno scene—had made from their own cracked milieus. Gritty yet arty, the music is an influence obvious in Nowak's writing today, with its emphasis on sampled text and "remixing," using juxtaposed texts to create a new reading.
"In my mind, that was just the way in which 'art stuff' was put together," says Nowak. Over six feet tall and proportionately broad, Nowak seems as likely to be a bouncer as a poet or teacher—at least until he speaks in his ever amiable and enthusiastic way. "Whatever I was doing—I was a musician then, and somehow slowly became a poet—that was the process."
His first book, Revenants, published by Coffee House Press in 2000, brought Nowak back to Buffalo to reexamine the city's blue-collar neighborhoods. But perhaps just as importantly, its publication taught Nowak what he didn't want from the poetry world.
"I'd get asked to do a reading and I'd think, 'Oh, this poet's going to be there, that poet's going to be there, and I hope these three poets will be there, but it's only my first book, so probably not. . . .' It got so that I could predict who was going to be at my readings."
Frustrated by such insularity, Nowak plotted his escape with Shut Up Shut Down (2004), a directly political poetry that sampled from many sources, including interviews with '50s Red Scare victims, contemporary union meetings, and pedagogical reference books—a blueprint for Coal Mountain Elementary, and a shuttle that took Nowak from the readings-and-signings world into new territory for his poetry.
Besides coffeehouses and graduate seminars, Nowak took Shut Up Shut Down to union halls and political rallies. And a funny thing happened. "Once I started putting this out there, I realized there was a hunger for writers to be a part of these other sorts of groups," he says. "I want to see how can we think about being writers not just as putting words on the page, but about living as writers in the community."
Then, in 2006, the Ford Motor Company announced "The Way Forward," a plan to "save" the company by shutting down over a dozen of its assembly plants and cutting tens of thousands of jobs. Among the threatened plants was the Twin Cities Ford Assembly Plant in the city Nowak calls home, St. Paul, Minnesota.
"When the news came out that the plant might close, they talked to the mayor, the governor, even to real estate agents—about the land," Nowak says, "But they never talked to the people who worked there 30 years. So I asked the [union] if I could start a workshop, so that workers would have a chance to write about what they were feeling."
Nowak's creative-writing workshops with union workers at the Ford plant turned into an international effort, leading to "poetry dialogues" between workers in St. Paul and Ford employees at two plants in South Africa. He has since gone on to establish dialogue workshop sessions with striking clerical workers at the University of Minnesota, and an ongoing monthly workshop called Rafaidah with Muslim and Somali immigrant nurses in the Twin Cities.
As his dialogues and workshops developed throughout 2006, however, the events from Sago on January 2 of that year were never far from his mind. Later that year, on a visit to Davis and Elkins College, Nowak began photographing the West Virginia coal country and researching the Sago disaster. That research resulted in an early, Sago-only version of CME, which Davis and Elkins theater professor April Daras produced as a staged reading. But in the process of his further work, Nowak joined an e-mail listserv for mine rescuers and began seeing, through news reports, the daily toll of the Chinese mines.
"Even by conservative government estimates, 5,000 people were dying each year," Nowak observes, "Go to any store in the city, and 75 percent of the things for sale probably say 'Made in China.' Those factories are powered by electricity from coal mines where nine people are dying per day. Besides the military, I can't think of an occupation where, every day, multiple people die on the job."
Nowak challenged himself to find a way to zoom in and out from the localized Sago story to the globalized story of miners in China. In Coal Mountain Elementary, the book's spine acts as a bridge between the voices of the Sago story and the rest of the world. All the while, the voice of the American Coal Foundation's curriculum explores the way that pedagogy indoctrinates people into the corporate mind-set:
Allow students to share their experiences with the class.


Was making a profit easier or harder than they expected?


How accurate is this simulation in illustrating the challenges of
     making money in the mining industry?


What costs or possibilities for profits were not included in this
     exercise?
Nowak sets this in contrast to the immediate and personal testimony from Sago:
. . . Then you grab what's available, a curtain or anything, and you curtain off what you can and you try to seal it. If you can't find anything else, you use mud from the bottom. You're talking about desperate times there. I'm sorry. I was just—. Explaining that part of it. I was close to all them guys that got killed and I know what they went through. Men that got killed. That was my crew.
* * *
Perched on her chair in this Sutton, West Virginia, restaurant, Merleen Campbell stands out. Glamorous with her white hair and jewelry, dressed for a night out, alone, Campbell sips her wine in a rhythm—one sip for each increasingly dark moment in Coal Mountain Elementary's narrative. She smiles and nods as its characters mention the daily peculiarities of mining—the company store, for example. And she takes stern drinks at mining's singular horrors. Campbell's life, like that of so many West Virginians, has been shaped by the coal industry. She remembers picnicking outside the mine shaft as a little girl, just after World War II, while her daddy took the mules in to set dynamite. After he died (at 39), she inherited part of one of those dynamited mines, and remained in the family business for decades.
She came to see CME less to learn about the miners' world and more to defend it.
"I was prepared to walk out if they were disrespectful," says Campbell in her stately southern voice, "I was worried because—how are you going to do this with respect? But I saw—he uses the language, the people's actual words; and you know—that's how."
Respect was the biggest concern—for the Davis and Elkins theater group, and for Nowak. Their greatest hopes and biggest fears came true at one performance in Elkins, when relatives of the Sago victims came to see the performance. Just like Campbell, they came prepared to storm out. But Nowak's use of language, and the troupe's sensitive approach to honoring that language, made theirs a powerful ritual rather than a heartstring-tugging exploitation.
"This woman, she lost her brother-in-law in the mine," says Hyre. "And she saw me after [the performance] and got this deer-in-the-headlights look, and just wanted to touch and hug me, to physically connect with me. Because the old guy I played—the intonation was accurate, the accent, limp, they were all accurate. And she hugged me, and she didn't want to let go."
"I'll never forget, as long as I live," says Milstead. "She said that we did those men that died justice, and they're up in heaven smiling down on us for doing it. That's going to stay with me forever. We give a kind of closure to those families; they can rest a little easier knowing that it's not just going to slip by unnoticed."
Justin Hopper is a writer interested in English culture, as well as the ongoing renaissance in his beloved home, Pittsburgh. Recent publications include a piece on music in the 1984 UK miner's strike for Paste magazine, and a book about grassroots initiatives in Pittsburgh. He is currently working on a...
From Sago to Xinjiang
Mark Nowak's documentary poetry shines a light on the coal industry.
Justin Hopper is a writer interested in English culture, as well as the ongoing renaissance in his beloved home, Pittsburgh. Recent publications include a piece on music in the 1984 UK miner's strike for Paste magazine, and a book about grassroots initiatives in Pittsburgh. He is currently working on a...