The Words Know What They Want
An interview with this year's Poetry Out Loud winner.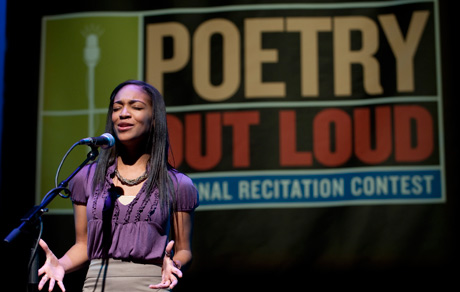 Amber Rose Johnson
Kristin Esch: You've just won the Poetry Out Loud competition—how do you feel?
Amber Rose Johnson: I feel absolutely incredible. There are really no words that can grasp all the emotions I have been feeling over these last couple of days. When I won states this year and found out that I would be traveling back to D.C. for the national title—although it is what we all are striving for, it seemed so distant. Being handed the trophy was almost like an out-of-body experience. I am extremely honored and excited about what is to come for this upcoming year.
KE: Describe your relationship to poetry—do you read it in your spare time? Do you have other poems memorized?
ARJ: I wanted to find poems that I could relate to, and poems that would hold some real meaning in my life. Nikki Giovanni is one of my favorite authors and "Walking Down Park" is a wonderful poem. I love the way I can take my audience on a journey with me while speaking. It creates such vivid images and encourages us to really think about our own lives and what it really means for us, individually, to be free.
"Sonnet CXVI" is fabulous as well. Not only did I want to challenge myself to do a classic Shakespeare poem, but I also really believe in the message of this piece. He is talking about what true love really looks like, which is something I think we tend to forget. I could relate because the love that my parents share is really "an ever fixed mark" in my life, and it is teaching me what I want love to look like for me. Lastly, "For My People" is a phenomenal poem. I love the way Margaret Walker wrote this, with the series of lists. It is an immensely powerful piece that speaks very loudly about African-Americans and ends in such a beautiful triumph. Simply incredible.
KE: Has participating in the Poetry Out Loud competition changed your relationship to poetry?
ARJ: Because my sister—and coach—Sarah Ashley is a spoken-word artist, poetry has always been a part of my life. I have always enjoyed poetry, mostly what I've found in the "underground spots." More recently I personally have taken an interest in written poetry rather than slam poetry. I do have other poems memorized that I like to share with other people—as well as poems that I think all people should just know for daily use.
Competing in Poetry Out Loud has completely changed my perspective on written and classical poetry. For example, since Shakespeare was the author of one of my competition poems, it forced me to really analyze his style of writing and the message he wished to portray to his audience. During this process, I came to find out what a funny, and romantic writer Shakespeare really was! I no longer disregard poems because of how long ago they were written, or because the language isn't easy to understand at first glance. In fact, because of Poetry Out Loud I truly seek the beauty in every poem, and the meaning in each line.
KE: Do you have advice for other students who want to participate?
ARJ: When in doubt, let the poem speak for itself. The words know what they want far better than you do.
KE: Do you think you'll ever forget the poems you memorized?
ARJ: I will never forget the poems that I used for this competition. Poetry Out Loud creates a lasting impression on each and every student that competes, making our poems impossible to forget. The poems come as second nature at this point. I apply quotes from them to my daily activities. This is one of the main reasons why Poetry Out Loud is such a fantastic program—it encourages the participants to form relationships with the selected poems. Relationships that will never be forgotten.
The Words Know What They Want
An interview with this year's Poetry Out Loud winner.