In the Realms of the Unreal
Searching for authentic slam poetry in Chicago.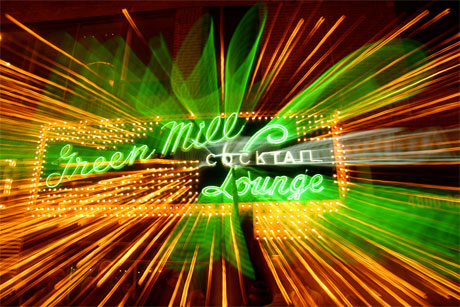 Photo:
Señor Codo
,
some rights reserved
.
A rotary phone and an antique cash register rest on the counter behind the bar. The faded handwritten labels on the jukebox look as though they've been around since the days when the men and women who came here sported fedoras and white gloves. Behind the stage, the neon sign that reads "Green Mill" is unlit. It's another Sunday night at the Green Mill Cocktail Lounge in Chicago, and a poetry slam—no, the Uptown Poetry Slam that has become part of the Mill's mythic past just as much as gangsters and moonshine—is about to begin.
I'm here because I expected to find the same Green Mill poetry slam I remembered from the last time I attended, in 1999. Back then it seemed hip, edgy, and slightly taboo. I remember hearing intimate, provocative poems about things I didn't find in the poetry I read in school: sex and abuse, shame and rage. It felt raw, visceral—maybe even naughty—and somehow very important.
I'd flirted with the idea of getting up on stage myself, but watching slam felt like enough. Watching slam accomplished precisely what art was supposed to do—reflect and make sense of intimate, personal experience—and in doing so, slam made me feel more authentic, and less alone. Over a decade later, I returned to Chicago and once again found myself craving an artistic experience that challenged me in a way the latest blockbuster or bestseller could not. So I came back to the Green Mill.
Just like then, Marc Smith, the founding father of slam, holds court on this Sunday night. He introduces Steve Seddon and Kate Anderson, two slam veterans who've graced the Green Mill stage since the early '90s. I feel a little of the old magic of anticipation rising again. Seddon strums his guitar and Anderson launches into a poetic song:
"It's not for you if you have liver problems and/or a few other things. I saw my doctor, we had a chat, now I know where my heart is at. Now I trust my heart to Lipitor. . . ."
* * *
The Green Mill in Chicago was home to rule-bending rabble-rousers long before it became the birthplace of the slam poetry show on July 25th, 1986. (Smith started the actual slam movement a year earlier at the Get Me High Lounge in Chicago's Bucktown neighborhood.) Ever since it opened its doors just over a century ago, the bar has been an uptown Chicago bastion for artists and rogues. During its early incarnation as a Prohibition-era gin joint and Al Capone hang-out, the list of musicians who patronized the iconic establishment read like a who's who of jazz legends: Billie Holiday, Sarah Vaughan, Von Freeman. As a 1930s and '40s hot spot where decked-out Chicagoans would sip cocktails after an event at the Uptown Theatre or the Aragon Ballroom, the Green Mill was a place to see and be seen. Today, the iconic mint green sign above the door and the art deco fixtures within speak to this nostalgia for the past.
In the 1970s, the Mill went into decline. It wasn't until David Jemilo bought the Mill in 1986 and Chicago construction worker Marc Smith began to host a weekly poetry cabaret that the bar began to transform yet again. Soon all the Joes—the plumber, the bus driver, and the sanitation worker—were reading poetry.
The story of slam's subsequent rise to prominence is now legendary: the Uptown Poetry Slam began as an unpretentious alternative for working-class folks who weren't accepted at starched-and-pressed "academic" poetry readings. Today, nearly 25 years and 100,000 visitors later, the Green Mill slam still follows the basic format it established in the '80s: an open mic, guest performers, and the slam competition. Judges are still randomly chosen from the audience and score poets on a scale from one to 10. The crowd hisses and snaps in disapproval if a poet isn't up to snuff. Back in the day, the grand prize was a Twinkie. Today it's usually a whopping 10 bucks.
* * *
Before checking out the Green Mill again, I had chanced upon a copy of Susan Somers-Willett's book The Cultural Politics of Slam Poetry: Race, Identity and the Performance of Popular Verse in America. I was curious about her journey from slam to academia and beyond. The book looked as if it might address the question I'd asked myself since returning to Chicago; namely, how had slam poetry changed after becoming an establishment of its own?
Somers-Willett was a slam poet who excelled at the national level. She went on to get a PhD in American literature and an MA in creative writing and then to become a professor, joining the ranks of the academy that slam poets initially rejected. Somers-Willet found the immediate, visceral feedback of slam its own reward, but over time the competition grew staid. The fact that former slam poets were splintering into realms of writing and performance beyond competition, she suggested in her book, was evidence of slam's strength as a site of experimentation and growth.
"I think of slam as a laboratory for poets to try on different voices," she said when we spoke over the phone. "They go on to do things that are new and innovative in very different directions."
Slam spaces were ripe for exploration—and, in some cases, exploitation. Exposure to slam exploded around 2002 with the premiere of Def Poetry Jam, a Russell Simmons–produced HBO television series that garnered mainstream attention. For many performance poets, Def Jam was an opportunity to create a career from slam and increase their exposure, but Marc Smith was unimpressed with the show's popularity. I spoke with Smith on a Sunday shortly before showtime at the Green Mill. He made clear that a Hollywood-produced television show as the vehicle for a grassroots movement simply didn't mesh with the spirit of slam.
"It became a formula, so young people see this very narrow thing of what slam is like . . . they forget the spectrum of this art that we carry on here in Chicago," said Smith. "It's not the fault of this show, and it's not the fault of slam. It's the fault of the media, which has done it to many art forms."
When Def Jam brought performance poetry to the masses, there was an influx of what Tim Stafford, a "slammaster" at Chicago slam establishment Mental Graffiti, labeled "cookie-cutter Def Jam wannabes" who merely copied what they saw on television and pasted it onto the slam stage. "Chicago's cool because it has a very low tolerance for bullshit. It's kind of like a humbler. There's a lot of tricks that just don't fly here," he said.
"Wannabes" were those who came to slam for the sake of their egos, not authentic expression. When slam poets— increasingly white and upper-middle-class—followed the "formula" imported from television, they were appropriating largely from black spoken-word and hip-hop artists featured on the show. Today, slam's white, working-class roots are often misrepresented because the genre is often equated with Def Jam in the popular imagination. Def Jam was just one derivation of slam, suggested Stafford, and some slam poets were doing exactly what the Beats and countercultural groups before them had done: incorporating the tropes of African American culture to reify their own position against the establishment. "Realness" was problematically equated with the street, with suffering, and with disenfranchised groups. Ironically, slam poets had started to fake being real in order to seem "authentic."
Sure, the founding father of slam wasn't a fan of Def Jam, and there were no doubt poetic poseurs out there. But was the hybridization of slam and hip-hop that emerged from the show a watered-down version of the original, or simply a new subgenre that strengthened the entire spoken-word family?
"Slam has gained purchase because hip-hop exists," said Roger Bonair-Agard, a renowned slam poet champion and a Cave Canem fellow. "Hip-hop has made it possible for slam and performance poetry to experience this re-burgeoning to a certain extent. There is this dovetailing of all these threads of literary art that's happening. All art is fusion. Hip-hop doesn't exist without the blues. I don't think there's dilution; there's just creation of new shit."
Def Jam is the most salient example because it's the most commercial, but there are countless other performance-poetry manifestations that bear the mark of slam's lineage. They resemble their creative ancestor but are far from a spitting image. In fact, many of today's acclaimed page poets cultivated their craft in slams. A handful are academics like Somers-Willet, who also works on documentary poems, and Patricia Smith, a four-time national slam champion who wowed audiences with her Def Jam appearances. Since then, Smith has published five collections of poetry, been nominated for National Book Award, and earned widespread recognition from the literary establishment. Others started their own organizations or slam-inspired shows. Mindy Nettifee, a former National Poetry Slam coach and competitor, is the founder of the Write Now Poetry Society, a poetry nonprofit. She has collaborated on large-scale productions such as The Drums Inside Your Chest, a poetry concert produced by actress and poet Amber Tamblyn that fuses music, poetry, and performance.
"There's so many of us who are in love with poetry and want others to see what we see in it, but we recognize that the traditional open mic is not the only way to bring people to it," said Nettifee. "Maybe having gone through commercialization, slam also went through a stage of professionalization."
Slam has come a long way since the days of the Twinkie. It's not just a show but also a national event and a social movement. Here the story of slam bleeds into the narratives of artistic and grassroots movements throughout history: once it became conventionally cool, it became commercialized.
For Marc Smith, slam has never been about adhering to the rules (he emphasizes over and over again that rules are made to be broken); it's about staying true to its spirit. Like Somers-Willett, he praises slam's shifting shape as one of its strengths. Slam's mutability is what has drawn his attention overseas in recent years, where he finds more openness about art.
"At the national level, the national nonprofit that runs the national slam [Poetry Slam, Inc., which sponsors the National Poetry Slam Competition], they're stuck in standardized rules. Around the world, for instance, in the slam that used to be in Jerusalem, not too far from where there'd be bombs going off, their rules were you read your poem, the audience discusses your poem, then you read it again and then they score. In Bonn, Germany, they would hold up roses, and they would throw the roses, and the one with the biggest bouquet was the winner. The rules, and the structure of the show, is a game. It's a theatrical device."
Smith's voice crescendos, and then he commands me to put down my pen so we can arm-wrestle. He puts out his burly hand in challenge. I glance around to see if anyone is watching, and we begin to arm-wrestle right there in a booth near the jukebox at the Green Mill.
"Here we go. Now if we sit here long enough, there are people who are going to be looking at this because this, to them, is a competition. But you and I know we're both just goofing around. That's what it's all about. It's all a game. Anybody that takes it serious, you can tell them from me they're full of shit."
* * *
The slam competition is the vehicle for bringing poetry to the people, but it hasn't always functioned in favor of the poem. Conflating a winning argument with a quality poem led to the rise of what veteran slam poet Big Poppa E calls "torture porn"— the saturation of slam poetry with shocking or provocative verse. Poetry once tethered to authentic experience now hinged on "pop culture references as emotional shorthand." Verbal sparring was privileged over poetic acumen. "So many of the loudest voices all sound the same," said Big Poppa E. "They list the most disgusting images and then it's like, 'Peace. I dare you to give that less than a 10.'"
Turning slams into a competition about who had suffered the most amplified certain voices, while others were drowned out. As liberal and open as they may seem, slams are not egalitarian utopias. Though slam has a longstanding reputation for creating radical spaces that challenge mainstream dynamics of power and privilege, this didn't prevent a gendered hierarchy from emerging within slam over time.
"You don't realize it, but it can become a boys' club," said Stafford. "I don't think I've ever done anything bad, but I look back and see not only how it turned people off, but how it might have made them more hesitant to try their own thing," he continued, recalling a period in Chicago slam when "it seemed like dudes running shows" was the norm. Currently, two women and one man head up Mental Graffiti, and there's even an all-female Women of the World poetry slam. Was the all-female version any more authentic than its predecessors? Maybe "more authentic" was the wrong phrase to use.
"In my opinion, slam is at its preteen stage," said Tristan Silverman, a member of the Green Mill national slam team. "It wants to be an adolescent and grow boobs already, but it's just not there."
* * *
Robbie Q. Telfer is a member of Chicago's Green Mill team and the Director of Perfoming Arts at Chicago Young Authors, a nonprofit devoted to helping teens cultivate their voices through written and spoken word. He's also a co-founder and a producer of the Encyclopedia Show, a performance and spoken-word variety show. Though Telfer got his spoken-word start in slams, he dropped the competition from his own show and focused on research-based entertainment as a "way to crack open the subconscious."
"While people inherently get the narrative arc of competition, they don't get the importance of entertainment as survival from tragedy," he said. Even as a player in the upper echelons of the game, for Telfer, the slam community always trumped the competition.
"The slam competition is a moment in time, but what we're doing is building a community around this very public flashpoint," Telfer said. "We use it as a gimmick to open the temple door."
Today, the spirit of the slam is lived out in Chicago's youth spaces even more so than in adult slams. At least, that's what Kevin Coval, a spoken-word poet and co-founder of Louder Than a Bomb, Chicago's teen poetry festival, thinks.
I meet Coval in a Wicker Park cafe. He's wearing a T-shirt that reads "Greetings from Chicago," and his beard runs a neatly manicured track down his sideburns and around his chin. He's passionate about poetry, and he speaks in spoken word.
Coval emphasizes that LTAB's mission is to help students find their authentic voice, not learn how to win a competition. "I think the slam is a tool of organizing, and it did just that: put people in seats and got them to listen. I think stories, and being unafraid of our own truths, is a way that we exist in something that is here and authentic. In a plastic culture, that goes against convention, and so it becomes a political act."
* * *
Chicago's two national slam outfits, Mental Graffiti and the Green Mill, are slated to go head to head in a "dress rehearsal" before they compete, along with 74 other teams, at the 21st National Poetry Slam Competition in St. Paul, Minnesota. Some of the poets sit alone on bar stools; others huddle together in anticipation of game time. They all possess the poise of pros.
Bonair-Agard claims the stage first. His resonant voice crests over vowels and crashes down onto consonants. The percussion in his cadence ignites the title of his poem, "To come from"—three words that, in other contexts, seem devoid of meaning—with a spark of significance. Weeks later, his voice, face, and poem are inextricably linked in my mind:
"Brooklyn is a reluctant lighthouse, an unwelcoming harbor," he croons.
One by one the poets take to the stage. Their poems seem to somersault out of their mouths and into the lap of the audience. There's one mixing metaphors about the Gulf oil spill and female ejaculation ("tongues, black-coated and thick with excuses," "Mother Earth comes hard") and a duet poem in which two women take on the personae of girls in a brothel. Telfer refers to himself as "a brittle vanilla fortune cookie" and recites a graphic poem about kids killing kids. "Unless you're a racist you should feel like shit too," he spews.
Now this is more like the slam that moved me in the past: poems dealing with taboo issues, poets who shimmered with the strength of their words. Yet I can't just enjoy it. I keep thinking about what I'm feeling—or, rather, how I should be feeling. Are these poets being "real," or are they manipulating my emotions through studied technique? Is the metric of quality the "realness" of the poet or the artistic merit of the poem? Perhaps I simply wanted to know that I could still be moved, and that the voices onstage still resonated with my own.
"Sacred Fire Girls of Every United Place" is a poem about adolescent girls playing doctor and learning how to touch each other's "happy place," and Tristan Silverman reads it unflinchingly later that night. Yes, the poem is provocative, but Silverman detests the notion of slam poets as shock jocks. She is reading—not performing—a poem, she clarifies, and the backbone of her poetry lies in words on a page, not theatrics or showmanship.
Slam forges a connection between the poet and the audience, but it also helps us connect with ourselves—the self we are, and the self we wish we could be. The poet onstage is stripped bare and therefore vulnerable, so any fakery feels jarring for both the performer and the audience. The core of authenticity in slam is situated not in the poet but in the audience. It cannot be streamed live or reproduced. In this sense, the slam poet functions as a mirror, reflecting what is artificial or disingenuous about those who come to bear witness.
I find out later that what Silverman most loves about slam are the moments when an audience is absolutely quiet. She finds the moments when she's cradling her listeners in the crux of her poem "beyond gratifying." I experience such a moment when Silverman silences the Green Mill. In the space and time of a poem, I believe she succeeds in finding what she—and perhaps I—had come for: to be engaged, to be validated, and to feel.
Alizah Salario is a former Columbia University journalism fellow at the Poetry Foundation. Her writing has appeared in The Daily Beast, Ms. Magazine, TimeOut Istanbul, Booklist, and elsewhere. She lives in Chicago. 
In the Realms of the Unreal
Searching for authentic slam poetry in Chicago.
Alizah Salario is a former Columbia University journalism fellow at the Poetry Foundation. Her writing has appeared in The Daily Beast, Ms. Magazine, TimeOut Istanbul, Booklist, and elsewhere. She lives in Chicago.