Gifting in Verse
Six notable books that pair poetry with images.
The publication of The Gorgeous Nothings, the elegant, arresting volume of Emily Dickinson's envelope poems released this fall by New Directions, has been rightly celebrated for many reasons, not the least of which is that it reminds us of the visual component of poetry. As we near the end of the year, we wanted to highlight other books that use visual elements to animate text—from a grief-stricken lament in the wake of a suicide to a sweet, timeless lullaby. Any or all of the following titles would make lovely gifts during this holiday season.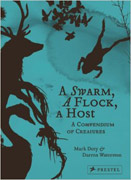 A Swarm, A Flock, A Host
by Mark Doty
You won't find any moralizing allegories in this contemporary take on a medieval bestiary. Instead, Mark Doty's gorgeous poetry paired with Daren Waterston's silhouettes of real and imaginary animals gently remind us that we are no longer simply cataloguers of the natural world—we are also its stewards.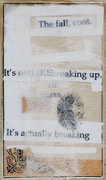 Bough Down
by Karen Green
"It's hard to remember tender things tenderly," writes Green in this sharp, haunting account. A mix of prose poetry interspersed with tiny collages of text, Bough Down stakes as its territory Green's grief after her husband, the writer David Foster Wallace, committed suicide in 2008. "I worry I broke your kneecaps when I cut you down," Green writes. "I keep hearing that sound." Her writing is insistent and vivid and clear-eyed even at its most painful, and the result is an unforgettable, devastating work. "Every view is peripheral now," she observes.
(Image from Bough Down by Karen Green, Siglio, 2013. Copyrighted by the artist.)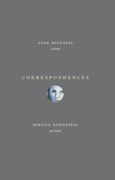 Correspondences
poem by Anne Michaels, portraits by Bernice Eisenstein
Correspondences is a two-for-one art-poetry book that spreads out accordion-style. On one side is a book-length poem by Anne Michaels that engages both the historical and the personal. Flip the book over and you'll find a collection of visual art and poetry: Bernice Eisenstein's portraits of poets and thinkers such as Anna Akhmatova and Franz Kafka, with accompanying excerpts of their poems in translation. There's a direct conversation between the two projects, a collaboration between artist and poet, as these two sections "talk" to one another by referencing the same historical figures and explore the interconnectedness of our lives.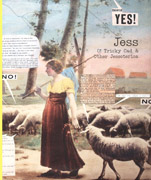 O! Tricky Cad and Other Jessoterica
by Jess, edited by Michael Duncan
Think of O! Tricky Cad and Other Jessoterica as a kind of gateway drug to poetry. Featuring word-rich collage art and previously unpublished collage poems by San Francisco artist Jess, the book draws on diverse source material, ranging from the comic Krazy Kat to 19th-century engravings.


The World Is Round
by Gertrude Stein, illustrated by Clement Hurd  
Stein was at the height of her career in 1938 when she received a letter from a new publishing house asking if she had any interest in writing a children's book. Why yes, she replied; in fact, she had such a manuscript nearly completed. The resulting The World Is Round, written in Stein's wry, inimitable voice, is as likely to appeal to adults as to children. "Why am I a little girl / Where am I a little girl," wonders Stein's aptly named heroine, Rose."Which little girl am I." The 75th-anniversary edition returns the book to its original design by a young Clement Hurd (who would later go on to illustrate Goodnight Moon), with eye-popping pink pages and gorgeous blue ink drawings.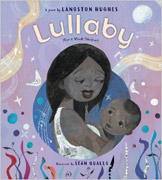 Lullaby (For a Black Mother)
by Langston Hughes, illustrated by Sean Qualls
Langston Hughes didn't have any children of his own, but when he was a young man he wrote a simple, tender poem directed at the youngest of them. "Lullaby (For a Black Mother)" begins: "My little dark baby, / My little earth-thing, / My little love-one." This newly released edition couples Hughes's lines with Sean Qualls's beautiful illustrations; the night sky is rendered in deep, rich blues and purples, with the mother clasping her baby's hands as a dove strings a jewel-like "necklace of stars." It's a perfect bedtime story for young children, and a lovely introduction to Hughes's work.
Gifting in Verse
Six notable books that pair poetry with images.