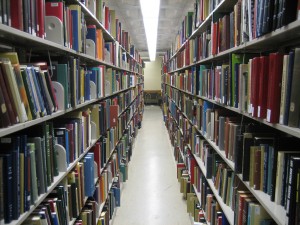 I'm curious to hear your thoughts on the role of the library in your life as a 21st century reader and/or writer. I taught a summer class this past June, and when I needed to mark papers or work on my notes, I often retreated from the summer sun and my always-on computer screen to the basement of Gorgas Library here on the University of Alabama campus. The basement of Gorgas approaches my Platonic ideal of librarity (or librariousness, if you prefer): cool silence, greenish tile floors, flickery yellow fluorescent lights, indestructible but much-graffiti'd wooden and green metal furniture, creaky and ticking pipes crisscrossing the low ceiling, and of course aisle upon aisle of books, many of which (e.g., a 1932 history of Catholicism in Montana) may never be read again, but all of which stand ready, patient, in case you want them. I love it down there. When my mind wandered from my students' papers, I got to thinking about how my relationship to libraries has changed over time. I wonder how yours has, too.
Back in the day, I spent a lot of time browsing in the stacks at libraries, discovering new writers by checking out the shelves surrounding those I already knew and liked. I never do that any more. I do my browsing online now, reading web sites, blogs, reviews, seeing what people who bought what I have in my shopping cart also bought, etc., and then when I've compiled a list of things I think I might want to check out--in both senses--I print out a list of call numbers from my library's catalog, and I go over there to pluck those books from the shelves. I always stop and scan the "new books" shelf near the library entrance, yes. But mostly, when I go to the library these days, it's the last step in the search process, not the first. (Or I'm going just to sit in that basement. Even if, in x years, all texts have turned digital and accessible from anywhere, any time, there will still have to be libraries, for people to use as refuges from the madding crowd.)
This of course begs the question of text-delivery technologies. If I'm going to read a novel or a book of poems, I want to have the book in my hand--I just do--and I'm happy to trot over to the library to get it. But if I just want to check a reference, or scan something to refresh my memory of it, I'd much rather just be able to click through a digital copy of the book on Google Books without having to leave my desk. In short, if I'm seeking an aesthetic experience, I prefer my books to come in three dimensional, analog form. If I'm just seeking information, I find digital texts much more convenient.
(I am aware that I have just posited a difference between "aesthetic experience" and "information" without explicating the nature of said difference. Sorry, not going to try, have to mow the lawn.)
Much is being said and has been said about Google Books and intellectual property rights and information wanting to be free and Kindles and the death of print and so forth. (When I attended library school ten years ago, the program's official name had recently been changed to "Information Sciences," but we all still called it library school, and you know, I bet people still do.) You're probably familiar with a lot of those discussions, and I'm not qualified to add much to them anyway. I am curious, though, about how other writers and readers of literature use libraries these days. And so an unscientific survey. Please feel free to answer all, some, or none of these questions, and/or to invent your own questions, and answer those instead.
Do you go to libraries? Which ones? How often? What do you do there? How has your library use changed over the last twenty years? If you could read everything online or on one of those Kindle thingies (I've never seen one; have you?), would you? It might be useful for our porpoises if you would state your approximate age when weighing in; I'm curious too how much the responses of twenty somethings will differ from those of sixty somethings.
Born in Grand Rapids, Michigan, poet Joel Brouwer is a graduate of Sarah Lawrence College and Syracuse University. Brouwer is the author of several collections of poetry, including And So (2009); Centuries (2003), a National Book Critics Circle Notable Book; and Exactly What Happened (1999), winner of the Larry Levis...