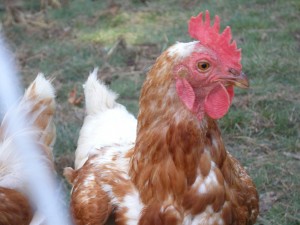 Here at last, live, the chickens get to do their own bidding, despite the human voice trying to introduce them, to rile them up, to get the chickens to give a good show.
http://static.poetryfoundation.org/o/harriet/2009/07/chickens.mp3
What I finally like is my own voice among the collective chicken voice. It seems the best you can do with nature is a kind of nextness, unless you are a trainer which is a whole other kind of man. I do think however about hearing Brad Gooch tell a story at Naropa about Flannery O'Connor's first brush with fame being when she was a little girl and had taught her chickens to walk backwards. Apparently some big reporter with cameras from New York came down to her home and shot the miracle and it was a staple in the newsreels of movie theaters for a while. Chickens kind of do walk backwards and I think Brad also said that the newsreel was kind of a scam like they extended it so that the backwards chicken walk went even longer than it did "in reality." I don't know if this brush of fame or distortion of reality encouraged a young chicken trainer to flourish later in her life in the art of fiction. I wonder if fiction is more like chicken training and poetry is more like chicken listening, even chicken commingling, and recording the whole mess. I hope to return to the chickens again today and see what more I can learn. Though there was a book review in rain taxi probably last month by now that was about poetry and politics and I also want to jump on that miserable piece of writing like a storm and flood the shallow waters of the author's thoughts. Hooray for the present. More chickens, more politics, more everything to come. I am very glad to have Windows Media Player installed (thanks to Bob).
I feel powerful, bold, war-like.
Eileen Myles was born in Cambridge, Massachusetts in 1949, was educated in Catholic schools, graduated from the University of Massachusetts-Boston in 1971, and moved to New York City in 1974 to be a poet. She gave her first reading at CBGB's, and then gravitated to St. Mark's church where she...