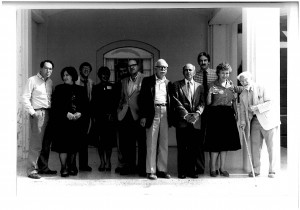 No, no, don't expect an answer from me; I'm just using my Harriet soapbox here to commemorate the 25th anniversary of a unique event in American poetry. In October of 1984, my friend and colleague Hank Lazer gathered together here in Tuscaloosa a sparkling group of poetry and poetics all-stars (Charles Altieri, Charles Bernstein, Kenneth Burke, Donald Hall, David Ignatow, Denise Levertov, Marjorie Perloff, Louis Simpson, Gerald Stern, and Helen Vendler) for three days of conversations and lectures concerning the aforementioned question. (The lasting result of this meeting was a terrific collection of essays with the same title as this post.) As you might expect, there were disagreements among the symposium participants regarding the nature and function of the poetic act.
That's putting it gently, actually; it's my understanding that people stormed out of rooms! But, as Hank writes here, looking back, at least this disparate group came together to argue face to face. It does seem like now, these years later, most writers of poems--not all; most--don't even bother to argue with those whose poetics they find alien or alienating. It's much less threatening, after all, to simply seek the friends, blogs, readings, ancestors, journals, and presses with which one feels an affinity, and ignore the rest. So here are three cheers for "What Is a Poet?", one of poetry's great brawls. You can find a complete transcript of the contentious panel discussion which concluded the symposium at that same link I gave above.
Born in Grand Rapids, Michigan, poet Joel Brouwer is a graduate of Sarah Lawrence College and Syracuse University. Brouwer is the author of several collections of poetry, including And So (2009); Centuries (2003), a National Book Critics Circle Notable Book; and Exactly What Happened (1999), winner of the Larry Levis...