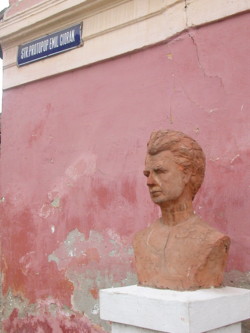 When autumn approaches -- or rather, when I start to long for its approach, knowing full well it's still far off -- I take my old frenemy E. M. Cioran down from the shelf and prepare to savor Persephone's desertion. The morsels below are from Anathemas and Admirations. The translation, by Richard Howard, was smartly reviewed by Edmund White back in the day. Happy Saturday!
"A stroll through Montparnasse Cemetery. All, young or old, made plans. They make no more. Strengthened by their example, I swear as a good pupil, returning, never to make any myself -- ever. Undeniably beneficial outing."
*
"There is something of the charlatan in anyone who triumphs in any realm whatever."
*
"Unrivaled in the worship of Impassivity, I have aspired to it frantically, so that the more I strained to achieve it, the further from it I found myself. A just defeat for a man who pursues a goal contrary to his nature."
*
"Do not confuse talent and verve. Most often verve will characterize the charlatan. From another point of view, without it, how give any spice to our truths, to our errors?"
*
"Everything that can be classified is perishable. Only what is susceptible to several interpretations endures."
*
"X reproached me for being a spectator, for not getting involved, for loathing the new. 'But I don't want to change anything,' I answered. He did not grasp the meaning of my reply. He took it for modesty."
*
"A sensation must have fallen very low to deign to turn into an idea."
*
"As an adolescent, Turgenev tacked to his bedroom wall a portrait of Fouquier-Tinville. Youth, always and everywhere, has idealized executioners, provided they perform their task in the name of the vague and the bombastic."
*
(This last makes me nervous, since I sometimes think I may have long idealized Cioran for not dissimilar reasons, and I'm not even young any more . . . )
Born in Grand Rapids, Michigan, poet Joel Brouwer is a graduate of Sarah Lawrence College and Syracuse University. Brouwer is the author of several collections of poetry, including And So (2009); Centuries (2003), a National Book Critics Circle Notable Book; and Exactly What Happened (1999), winner of the Larry Levis...