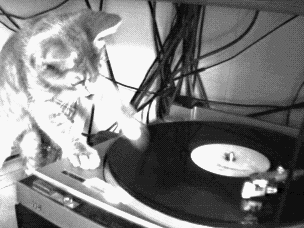 OK, if that GIF is too annoying, just tell me, and I'll take it down. Would be a shame, tho.
Adrian Matejka's second book of poems, Mixology, was published as part of last year's National Poetry Series, and I've finally gotten around to picking it up and checking it out. I knew Adrian very briefly when we both lived in Carbondale, Illinois, in 2001. He had a radio show on the local independent station WDBX (then 700 watts; since upgraded to 3000), and he asked me to come on the show and read some poems. I'd done this sort of thing before, on a poetry show on Madison, Wisconsin's indy station, the venerable WORT. But Adrian's show was a little different.
When I arrived at the studio, Adrian explained that while I read my poems, he was going to play music in the background. In other words, he was to be the DJ, and I the MC. Frankly friends I freaked. As we got into it, though, I found myself really enjoying it. I would never claim to have skillz as an MC, but fortunately Adrian's an excellent DJ, so the end result didn't sound half bad.
I think.
I could be wrong.
I'm probably wrong.
I've many times before and since thought about adding music, or still or moving imagery, or other sorts of aesthetic enhancements, to my poetry reading schtick. Doesn't it seem like kind of a no-brainer, in this age of collage, pastiche, inter- and extra-disciplinarity? Studio artists are all over this; the Venice and Whitney biennials are always full of film, sound, text, dance, and theater in addition to painting, sculpture, and photographs. Yes, surely, yes yes yes, there are many poets who mix, collaborate, boundary-cross, draw, dance, sing. But be honest: If, when you go to a poetry reading, the reader says just a sec, I gotta fire up the laptop projector / plug in the mp3 player / unpack my sax / put on my costume / etc., don't you cringe a little in anticipation, hoping s/he isn't about to make a fool of him or herself? Don't you? I do. Why do I?
Anyway, my thanks to Adrian for making me feel like Rakim for that one hour in Carbondale, long ago. Here's a poem from Mixology. Actually, this is the version that was in Prairie Schooner. It's a little different in the book. Is it cool that we just like post all sorts of copyrighted material on here, bosses? More mixology, I guess.
WHEELS OF STEEL
I got me two songs instead
of eyes—all swollen and blacked
out like the day after a lost fight.
Two jigsaws spinning, buzzing
the backdrop for woodshop
or emcee, bar mitzvah or afterset.
It's Run DMC rocking without
a band, but not without me.
Two rims spinning after the car
stops. Baby, I'm the little lenses
in the bifocals if they were on pulleys.
I'm the Wizard of Oz if Oz
was a fish fry in July. Call me
Master of the Cracked Fingers.
One song spins forward, the other
back to repeat itself: Every day
I'm hustlin'. Every day I'm hustlin'.
Baby, I'm the layaway payment
on a Ferris wheel. My songs orbit
parking lots and rent parties
like the crazy lady's eyes
when she finds out her lover man
already left. One of my songs
spins backward, while the other
plays forward like sugar mixing
in to make the grape. My songs
are the pinwheels for this parade
of moonwalks and uprocks.
Born in Grand Rapids, Michigan, poet Joel Brouwer is a graduate of Sarah Lawrence College and Syracuse University. Brouwer is the author of several collections of poetry, including And So (2009); Centuries (2003), a National Book Critics Circle Notable Book; and Exactly What Happened (1999), winner of the Larry Levis...