Chicago poet Paul Martínez Pompa kind of frightens me. I just tore through his first collection of poetry, My Kill Adore Him, which was selected by Martín Espada for the 2008 Andrés Montoya Poetry Prize. This prize is administered by Letras Latinas, the literary program of the Institute for Latino Studies at University of Notre Dame. The two previous recipients of the Montoya Prize are Sheryl Luna and Gabriel Gomez.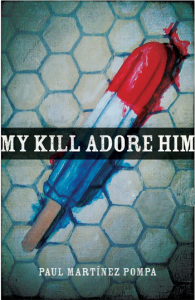 I've seen Martínez Pompa read before; last year, he was one of a handful of feature poets for The Wind Shifts: New Latino Poetry anthology reading, hosted by the anthology editor Francisco Aragón at Moe's Books on Telegraph Avenue in Berkeley (you can read Aragón's Poetry Foundation article here). I remember one of the poems Martínez Pompa read at the time, "Amputee Etcetera," which I found hilarious and troubling.
Nothing cuter
than a war amputee.
At this point I'm cracking up, knowing it's a terrible thing, my need to laugh this hard.
Nothing prettier
than a deserted semi-trailer
loaded with dead Mexicans.
And
Nothing lovelier
than a Chi-town cop
who pummels a bartender
one-third his size.
And
Nothing truer
than a poet who resists
on paper. Admire his nerve
to condemn from a safe
distance...
Ouch. That's us, and that's himself he's poking at. Still, poetry isn't completely distant or safe to Martínez Pompa. In the book's introduction, Espada writes, "his compassion for the damned may bring Whitman or Hughes to mind." I think of My Kill Adore Him as a space in which Martínez Pompa confronts the contractions -- distance and safety versus compassion for the damned.
Chicago is his city, and it is filled with these "damned" -- the "homeless wound, breathing // litter flung to the street / like a half-smoked cigarette," the day laborers smothered in the July heat, the young brown men mistaken by the police for other young brown men, the gay kid who gets his ass beat in gym class. There are so many nameless you's in these poems, and not only does he hold our gaze upon them, he urges us to zero in, and listen.
Here, a spirit must yell
to be heard yet a bullet
need only whisper to make
its point -- sometimes I imagine
you right before your death
with an entire city in your ears.
* * *
In Chicago, he's the Mexican who can't speak Spanish, and this is a source of disconnect. In "Poetry Reading at the Cafe Tamalé," invited by a high school Spanish language teacher "who promised her students an authentic cultural experience," he is "authentic as the Diego Rivera prints nailed to the wall" of the tamale shop. Then ensues this dialogue:
¿Eres mexicano, verdad? sí. ¿Cien por ciento? sí.
¿Por qué no hablas español? i don't know...
But he does know. In "Retablos: 10 Deleted Tongues," he writes:
See-it-think--
My father. 9-years old. At the blackboard.
I will not speak Spanish in class.
I will not speak Spanish in class.
I will not speak ...
He's a Mexican poet, and so he gives us the requisite abuelita poem, which he appropriately titles "The Abuelita Poem" (in two parts):
Her brown skin glistens as the sun
pours through the kitchen window
like gold leche. After grinding
the nixtamal, a word so beautifully ethnic
it must not only be italicized but underlined
to let you, the reader, know you've encountered
something beautifully ethnic...
In part II, he tells us he really called his abuelita grandma. She was the woman who would call Pizza Hut to order food, which she did "with the spirit of Mesoamérica / ablaze in her fingertips."
This is some good snark. At this point, I hope you can tell Martínez Pompa is having a lot of fun screwing around with ethnic authenticity, and the ways in which the "ethnic" American poet plays the tropes and performs ethnicity, by treating ethnicity as artifact. This reminds me of a guy I knew in college, the editor of a Chicano literary publication, who, amid the throes of reading submissions, ranted, exasperated: "If I have to read another Mama Tortilla poem...."
Martínez Pompa continues with the snarky tone as the average guy grappling with masculinity, as fed to us by mass media and advertising. How much stuff do we need to buy in order to think of ourselves as beautiful? I think of the poem "Banana Republic Politick," as the guy version of Harryette Mullen's Trimmings:
I bought more & saved these pretty white boys
are irresistibly high cheek bones my fantasy
factory on display as salespeople who know
what I need is more boot cut slim fit French
cuff stretch my BR card...
Really, no examination and critique of masculinity is complete without the homoeroticism of the locker room shower. In "Shower Stall Baller," he's calculated a "12-man roster, / 14 years in the league, 82 games each / means 12,628 exposures to NBA dick." He dedicates this poem to Tim Hardaway, for his homophobic remarks regarding the coming out of a retired NBA player. Indeed, think about how young men of color grow up in this country with African American professional athletes as their major role models, whose beliefs these young men choose to espouse. I think there's also an undercurrent to this poem about young men of color whose career aspirations are to become objectified and replaceable bodies.
There is so much more going on in this book that I haven't gotten to mention here. My Kill Adore Him is an exciting and tough collection of very well-composed and accessible poems. It's been a while since I tore through a book of poetry and really enjoyed the read, for all of its Hell yeah! and WTF and Oh no he didn't! moments. Pretty dope.
Barbara Jane Reyes was born in Manila, the Philippines, and grew up in the San Francisco Bay area. She earned a BA in ethnic studies from the University of California at Berkeley and an MFA from San Francisco State University. She is the author of the poetry collections Gravities of...