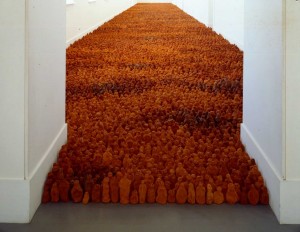 Pop quiz: What do Gore Vidal, Norman Mailer, Joseph Heller, Frank McCourt, Art Buchwald, Pete Hamill, Edward Abbey, Elmore Leonard, Mario Puzo, James Dickey, James Wright, Lawrence Ferlinghetti, Randall Jarrell, Frank O'Hara, Anthony Hecht, Richard Wilbur, A.R. Ammons, Paddy Chayevsky, Rod Serling, Aaron Spelling, Terry Southern, Walter Matthau, Robert Duvall, Tony Curtis, Harry Belafonte, Rod Steiger, Gene Hackman, Clint Eastwood, Paul Newman, Jason Robards, Charles Bronson, Ernest Borgnine, Robert Rauschenberg, Leo Krikorian, Dan Spiegle, Robert Miles Runyan, Kenneth Noland, LeRoy Nieman, Richard Callner, Ed Rossbach, and Robert Perine have in common?
Answer after the break. Don't click until you've made your guess. One thing you've already noticed is that they're all men. That's sort of a hint.
All these artists went to school on the G.I. Bill after WWII. I snipped this list from a review of Over Here: How the G.I. Bill Transformed the American Dream, by Edward Humes. Did you guess correctly?
Today the government rolls out the new G.I. Bill, for veterans who have served since 9/11. You can read more about the program here. It is huge. According to the AP, "In the next decade, $78 billion is expected to be paid out under the new GI Bill, which is the most comprehensive education benefit offered since World War II." And this time around, of course, there will be women as well as men eligible to benefit from the program.
I can't help but wonder what kind of impact this new GI Bill might have on the arts in five or ten years. And on arts education as early as, well, a month or so from now, when classes begin again. Some of these veterans are bound to happen into poetry classes, don't you suppose?
(P.S. Image is from an installation of Antony Gormley's "Terra Cotta Army.")
Born in Grand Rapids, Michigan, poet Joel Brouwer is a graduate of Sarah Lawrence College and Syracuse University. Brouwer is the author of several collections of poetry, including And So (2009); Centuries (2003), a National Book Critics Circle Notable Book; and Exactly What Happened (1999), winner of the Larry Levis...