Hello all, this is my first post to the Harriet blog, so let me very briefly introduce myself. I'm Barbara Jane Reyes, and I blog regularly at Poeta y Diwata. I am also a contributing blogger for Hyphen magazine, where I feature Asian/Pacific Islander American authors published by small presses. I'm an Oakland-based poet, and a long time San Francisco Bay Area resident.
As a poet, I was mentored by writers in Kearny Street Workshop, the original hub of the San Francisco Filipino American and Asian American literary scene. One such literary figure in this scene was the much venerated poet Al Robles, a denizen of the pre-gentrified SoMa (South of Market), Chinatown, and Fillmore District. He was a true San Francisco citizen, a collector of folks' stories, and an elder storyteller around whom communities gathered.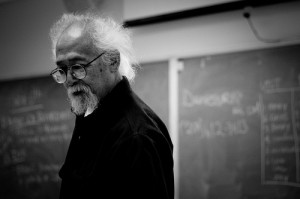 Al Robles was an activist, at the forefront of the movement to stop the demolition of the I-Hotel, which housed elderly and low income tenants, many of whom we've come to know as the "Manongs," elder Filipino Americans, or Pinoys, who spent their youths as migrant labor in West Coast agriculture and canneries, and as US veterans who fought in WWII. He brought young activists and artists to Agbayani Village in Delano, a rural settlement of these Manongs, and to the WWII Japanese American internment camps at Tule Lake and Manzanar. He believed it was important for young activists and artists to see these places with their own eyes, to hear the stories of these places firsthand. Robles's activism was closely tied to his poetic work; in fact, his activism and poetry were one and the same. He believed poets should bring themselves into the world.
The stories of the elderly Manongs, which is an Ilocano term of respect for our elders, populate Robles's collection, rappin' with ten thousand carabaos in the dark (UCLA Asian American Studies Center, 1996):
"As a poet I've followed the footprints of the manongs. I gathered their history from Agbayani Village to Stockton, in the farms and fields that stretched north, south, east, and west. I followed them deep inside fish bellies swimming across the icy cold Pacific waters. Sat down with every single manong and watched as they weaved out dreams from fishnets beneath trees, in the Kauai rains. I cried out to them across the sugarcane fields. Mudfish cut through my mind."
The way he saw it, history was not some abstract, distant thing; rather, it was right in front of us, contained in folks' memories, and it was our responsibility, us "youngblood" poets, to hear and to document these stories, and not just the beautiful ones:
baby, baby, baby
i ain't got nothin' to eat
wake up this mornin'
feelin' so sad
cryin' so bad

cadillac slim
midnight pimp
stompin'
ten-dollar tricks
for gray chicks
at the blue mirror

brown hands
unfolding
black flesh
dyin' pimps
laid out cold
on piss streets
Al Robles passed away on May 2, 2009, and the larger American poetry community barely noticed his passing. In San Francisco, however, we mourned, at the resurrected I-Hotel, at City Lights Books in the adjacent North Beach, in Japantown, in the Fillmore, in SoMa, in all the places where he heard folks' stories and committed them to poetry.
As for myself, I have also been mourning the passing of one of my first poet mentors, whose presence I felt keenly as a poet from my adolescence into full-blown authorhood. Over the past couple of decades, I would find him somewhere in San Francisco streets, with plastic bags full of stuff, or sitting in some hole in the wall place, eating fish and rice with his hands. He would invite me to sit, and he would tell so much story. He remembered so much about the city, despite its constantly changing landscape, despite the changing color of its people.
He taught me to pay acute attention to this city at ground level, and to its people, the elderly Pinoy selling the morning paper or playing chess alongside Market Street just outside the Powell Street station, the homeless Vietnam veteran in the Mission District, the natty homeless man like a wild Black Jesus:
Winter rain yum cha with Gin San
A fat, sloppy ragged, dirty, nose-
picking recluse, who hangs out at
Portsmouth Square all year-round.

Dragonflies get all tangled up in
his thick black mountain hair
Knotted with pine cones
White insects big as rice grains
crawl in and out.
The above is an excerpt from "Winter Rain Yum Cha with Gin San," one of my favorite poems by Al Robles, in which this nomad opens his shirt, and mushrooms sprout from his chest. It's Robles's wonder for this wild man of the city, who despite the city, seems not only to have sprouted from the earth, but in many ways, is the earth, what's here when you peel away all the layers of the city.
I will leave you with a link to a video (can't get Wordpress to embed the YouTube video) of Robles reading his poem, "Traveling North to Visit Okashi" at the now defunct art space, Babilonia 1808, in Berkeley, on August 3, 2002.
Barbara Jane Reyes was born in Manila, the Philippines, and grew up in the San Francisco Bay area. She earned a BA in ethnic studies from the University of California at Berkeley and an MFA from San Francisco State University. She is the author of the poetry collections Gravities of...