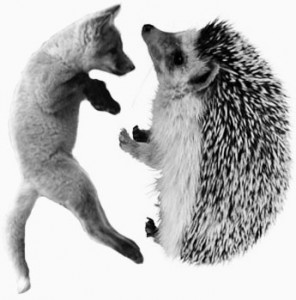 "The folklorist Vladimir Propp thought he was accomplishing something worthwhile by identifying in Russian folktales thirty-one functions and 151 elements, with a mathematical symbol assigned to each." -- Roger Shattuck, Forbidden Knowledge
*
Asked why he continued to live in Vienna after the war, Nazi hunter Simon Wiesenthal said, "If you study malaria, you should live in the swamp."
*
"When you think about it, wire walking is very close to what religion is. 'Religion' is from the Latin 'religare,' which means to link something, people or places. And to know, before you take your first step on a wire, that you are going to do the last one -- this is a kind of faith." -- Philippe Petit
*
"The fox knows many things, but the hedgehog knows one big thing." -- Archilochus
*
"The Gradus ad Parnassum, much in use by schoolboys, provided epithetic and other phrases from classical Latin poets, with the long and short syllables all conveniently marked for metrical fit, so that the aspirant poet could assemble a poem from the Gradus as boys might assemble a structure from an old Erector set. The overall structure could be of his own making but the pieces were all there before he came along." -- Walter J. Ong, Orality and Literacy
*
"The moon's surface has been shaped largely by impacts." -- Docent to schoolchildren at New York's Rose Center for Earth and Space
*
"Dreams and beasts are the two keys by which we are to find out the secrets of our nature. All mystics use them. The are like comparative anatomy. They are our test objects." -- Ralph Waldo Emerson
*
"But I have read history! And none, to a man, believed himself doomed!" -- Unidentified interlocutor in a dream
*
Hor. O day and night, but this is wondrous strange!
Ham. And therefore as a stranger give it welcome.
*
"All reading begins in the revolt against narcissism: when a book stops reflecting your own prejudices, whether for or against what you 'see in it' -- & begins to say something closer to what it does say, the core of the reality in the 'objective' aspect of it takes shape & you start wrestling with an angel." -- Northrop Frye
Born in Grand Rapids, Michigan, poet Joel Brouwer is a graduate of Sarah Lawrence College and Syracuse University. Brouwer is the author of several collections of poetry, including And So (2009); Centuries (2003), a National Book Critics Circle Notable Book; and Exactly What Happened (1999), winner of the Larry Levis...