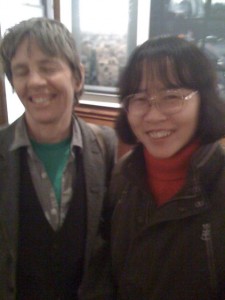 I'm thinking about Can Xue, this Chinese fiction writer who spoke at the 92nd Street Y in April. I went, I was such a groupie. She grew up during the Cultural Revolution in an intellectual family who were forced to do hard, physical labor. In general it was a pretty harsh time. Those of us who are turning 60 this year are exactly as old as the Cultural Revolution. There's a
piece at the beginning of one of Can Xue's books, Dialogues in Paradise where she talks about beginning to write and her grandmother starving to death and how her grandmother had all these little magic rituals and folk tales and the magic gave their existence and her writing its shape.
Can Xue's doing this surrealism of the body. It's a surrealism that comes like a hallucination out of suffering and deprivation and loss. Fantasy and storytelling and dreams arise from our bodies and are a way of making sense, making maps of the world. In China she's regarded as dirty and crazy. I guess cause she's stirring the pot on its own terms.
Up at the Y the woman interviewing Can Xue wanted to make conventional sense out of what she is doing and she kept saying your work comes out of great suffering and, and now, you can speak freely here in America, and it felt like the interviewer was trying to bring her down by means of that sentimental class stuff. Like turning her experience into a triumphal story. Trying to make it be heroic. Can Xue goes no I'm here because there's this bounce. She says it's like when you push people down, if they have imagination – imagination forces us back up.
Then it was like, who are your great influences? Can Xue reads widely, she was very open. I read Kafka, I read Shakespeare, I read all the Western authors. It was a great rebellion for me to be able to read all those authors but my great influence is my family.
She loved her family she explained because they were very spiritual people. They gave me great, strong spirituality. And so, when they held us down, my family bounced back every time, every time our imagination, our pride, our spirituality, we bounced back. There was a kind of power of rebellion, you know, and you can't give that to people. When you tell them to rebel, it's like they think you mean take your clothes off and go wild at the party. And then come back from that into responsibility. But I think that going wild is a part of the responsibility itself. I don't think it's a lesson easier taught inside the academy than out. There was no more restrictive place in my life than catholic schools and yet they taught us this lesson very strongly, that you have to go wild to survive. And I mean all of you surviving, you can learn that in school but it's not a class per se.
Eileen Myles was born in Cambridge, Massachusetts, and was educated in Catholic schools, graduated from the University of Massachusetts-Boston, and moved to New York City in 1974 to be a poet. They gave their first reading at CBGB's and then gravitated to St. Mark's church where they studied with Ted...