I was not introduced to the work of Raúl R. Salinas until very shortly after his death last year. I'd received an email invitation from San Francisco author Alejandro Murguía, to the Galería de la Raza in the Mission to celebrate Salinas's life.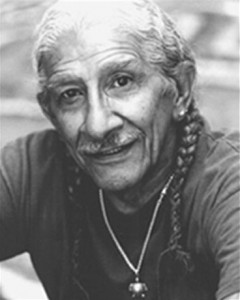 At that Galería de la Raza event, I learned that Salinas ran the Austin, TX multicultural and political Resistencia Bookstore which was also a community gathering space, as well as Red Salmon Arts, the literary venue and the small press. I witnessed a group of intergenerational Latino writers share their grief after telling us what an influential and monumental figure he was in their political and poetic lives. This reverence reminded me of Al Robles (who was still alive at the time); I wondered if I'd be able to withstand the inevitable outpouring of grief that would happen when Robles's time came.
Further cementing Salinas's monument status, I witnessed Lorna Dee Cervantes have the honor of performing Salinas's signature work, "Un Trip Through the Mind Jail," which Murguía described as the Xicano "Howl."
LA LOMA

Neighborhood of my youth
demolished, erased forever from
the universe.
You live on, captive, in the lonely
cellblocks of my mind.
Neighborhood of endless hills
muddied streets — all chuckhole lined —
that never drank of asphalt.
Kids barefoot/snotty-nosed
playing marbles/munching on bean tacos
(the kind you'll never find in a café)
2 peaceful generations removed from
their abuelos' revolution.

Neighborhood of dilapidated community hall
— Salón Cinco de Mayo —
yearly (May 5/Sept. 16) gathering
of the familias. Re-asserting pride
on those two significant days.
Speeches by the elders,
patriarchs with evidence of oppression
distinctly etched upon mestizo faces.
"Sons of Independence!"
Emphasis on allegiance to the tri-color
obscure names: JUAREZ & HIDALGO
their heroic deeds. Nostalgic tales of war
years under VILLA'S command. No one listened,
no one seemed to really care.
In the introduction to Indio Trails, Chicano Studies professor Louis G. Mendoza writes of Salinas:
"a new awareness that as a Chicano his history and destiny are intertwined with that of American Indians. For him, however, this was never a moment for solipsistic self-indulgence, but a call to action, an obligation that required him to integrate two identities he had been taught to think of as distinct from one another. The result was a Xicanindio perspective that charted a path for his politics and poetry."
This book is a collection of work spanning Salinas's involvement with the American Indian Movement (AIM), on the fishing rights of the Nisqually/Puyallup people, the cross country Trail of Self-Determination caravan, and supporting Leonard Peltier. Along the way, friends, comrades, and colleagues died violent deaths ("gunned down by renegades") and from illnesses ("bad livers from bad living"). This book is a collection of defiant and elegiac poems and poetic notes from on the road.
From all the four directions
of the sacred Turtle's back we came
for the burial of our own.
And we humbly
(in two traditions)
delivered our relations
to the warm womb
of Mother the Earth.
"No beat generation road trip here -- but a trip, nonetheless," he writes, and along the way, he recognizes that "3 times, / the eagle has appeared." This is "a good symbol/omen," and a message, that even as the people are being poisoned by crop dusters, even surrounded by histories of "indio iron/fire brandings," "things will be right, / in the valley of the sacred roots, / when you arrive."
And so, even when dealing with loss, Salinas calls for survival, participates in and witnesses public demonstrations calling for the "solidarity / for Red Nations / Natural people / to survive. / Striving for that Inter / National connect. / Commending mutual / Respect."
It's this hard consonance and musical, straight forward language that punctuates Salinas's collection. There's little need for flourished words when cleansing souls on the rez/Pine Ridge Reservation, after leaving the dark lonely city/Rapid City. What I most appreciate about Indio Trails is that even with the constant movement from place to place, when there is no time to indulge in discussions of whether or not the poetry is political, when he and his comrades are in constant action mode, there is always time for prayer, and in prayersong, reflection, and so much common sense:
Walk and you will know.
Walk and Be.
Walk in harmony.
Walk in/to spirit worlds.
Knowledge has no end.
In the poem, "About Invasion and Conquest," commemorating the 500 Years of Resistance, he tells us, there have been poets, and there will always be poets, to witness and to pass down the people's history. He really believed this, and he really did this: "Talk for healing. / Knowledge is living."
Barbara Jane Reyes was born in Manila, the Philippines, and grew up in the San Francisco Bay area. She earned a BA in ethnic studies from the University of California at Berkeley and an MFA from San Francisco State University. She is the author of the poetry collections Gravities of...