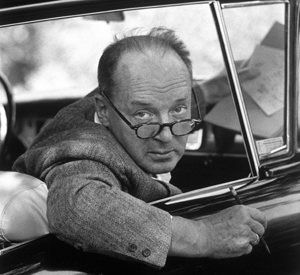 Unless you've been living under a rock, you probably know that writers living under rocks are doing unusually well these days. David Foster Wallace's Pale King, William Styron's The Suicide Run, Jung's The Red Book, Kurt Vonnegut's Look at the Birdie, and several other posthumous publications are appearing in print for the first time—and so is the last, unfinished work of everyone's favorite trilingual poet-scholar-novelist-translator-lepidopterist.
You know, Nabokov.
The question of whether to publish his Original of Laura has prompted quite a commotion, covered—and partly caused—by Slate's Ron Rosenbaum. (Click here, here, here, and here to learn more.) I particularly appreciate that Nabokov's son and literary executor, Dmitri, decided to publish the manuscript after an imaginary chat with his father's shade. It's not that I'm into spirits (though I am, particularly at this time of year); it's that Vladimir's ghostly return confirms, at least in my mind, that the themes of this brouhaha are his books' themes as well.
Nabokov constantly explores authorial power and powerlessness, sometimes seeming to yank the narrative away from his characters (think Pnin) and other times scorning critics so as to suggest a terror of their influence (think Lolita). One can only imagine how nightmarish he'd find his inability to join the Laura discussion, were he au courant. And for all we know--for all Dmitri's conversation, and Nabokov's own writing, suggests--he may well be. The author frequently interrogates how, why, and if we die, and nowhere more gracefully than in the poem at the heart of his mixed-genre masterpiece Pale Fire.
In that volume, Nabokov's invented poet John Shade ponders what might happen after death:
I'm ready to become a floweret
Or a fat fly, but never, to forget.
And I'll turn down eternity unless
The melancholy and the tenderness
Of mortal life; the passion and the pain;
The claret taillight of that dwindling plane
Off Hesperus; your gesture of dismay
On running out of cigarettes; the way
You smile at dogs; the trail of silver slime
Snails leave on flagstone; this good ink, this rhyme,
This index card, this slender rubber band
Which always forms, when dropped, an ampersand,
Are found in Heaven by the newlydead
Stored in its strongholds throughout the years.
This trail of images is a celebration of trails, of continuations. Sounds echo down the passage ("tenderness," "Hesperus," "gesture," "cigarettes") and each image captures a kind of perpetuation: the lingering taillight, the residue of slime, the line of ink, the repeating rhyme. Trailing seems like the opposite of death, perhaps even a sign of immortality. When dropped, the rubber band forms an "ampersand," which means, of course, "and"—means more is yet to come. And—and!—the word "newlydead" transforms death into a kind of wedding, whose "stronghold" suggests a firm embrace befitting newlyweds. Resonating here, too, is Whitman's cry from "Last Invocation": "Strong is your hold, O mortal flesh—strong is your hold, O love."
The nod to Whitman (like the many other references in this densely allusive poem) seems to cheat time, to assert the ongoing presence of the dead, who continue to crowd Nabokov's, or Shade's, poetry. And Nabokov will allude to this poem—without giving himself credit—at least three times, by my count, in his future novel Ada. The Nabokov of years past will then seem particularly present throughout the later work; Ada will keep alive the Nabokov of Pale Fire.
My favorite line of the poem may be its final one, "Trundling an empty barrow up the lane." By ending on the gerund "trundling," the poem stops while moving, which means it never stops. "Lane" lacks a rhyme; to find one, you must return to the  beginning of the poem. So the work progresses through lines but also through circles, and leaves trails without ever trailing off--rather as Nabokov does in permitting Dmitri to raise Laura from the dead.
Abigail Deutsch, the winner of Poetry magazine's 2010 Editors Prize for Reviewing, lives in New York. Her criticism appears in the Los Angeles Times, the San Francisco Chronicle, the Village Voice, n+1, Bookforum, and other publications.