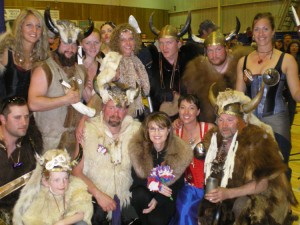 Many have noted the poetry latent in Sarah Palin's speech. Now that she's published a memoir, Going Rogue, many are noting the non-poetry of her non-prose.
But who would have imagined that Palin had a poetic forerunner, a partner in rhyme, a fellow Bard of Bad? Julia A. Moore (1847-1920), popularly called the "Sweet Singer of Michigan," produced reams of writing that soon became known as the worst of the verse. If Palin wrote a poem, I posit, it would be this definitive work of Moore's.
To My Friends and Critics
(an excerpt)

Perhaps you've read the papers
Containing my interview;
I hope you kind good people
Will not believe it true.
Some Editors of the papers
They thought it would be wise
To write a column about me,
So they filled it up with lies.

The papers have ridiculed me
A year and a half or more.
Such slander as the interview
I never read before.
Some reporters and editors
Are versed in telling lies.
Others it seems are willing
To let industry rise.

The people of good judgment
Will read the papers through,
And not rely on its truth
Without a candid view.
My first attempt at literature
Is the "Sweet Singer" by name,
I wrote that book without a thought
Of the future, or of fame.
Abigail Deutsch, the winner of Poetry magazine's 2010 Editors Prize for Reviewing, lives in New York. Her criticism appears in the Los Angeles Times, the San Francisco Chronicle, the Village Voice, n+1, Bookforum, and other publications.