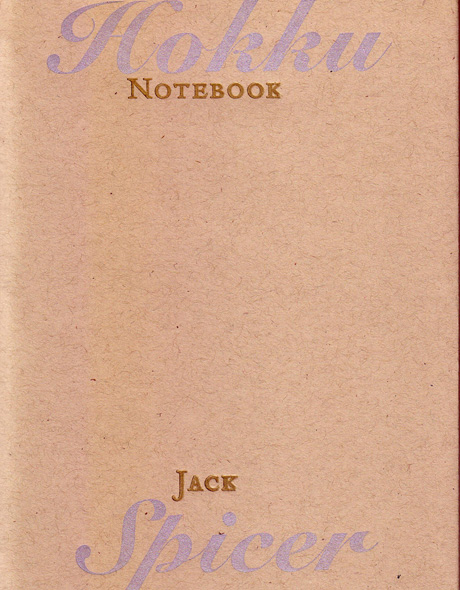 We love poetry at Poetry. We especially love poetry that comes over the transom, wrapped in fine ink on paper, accompanied by missives that state: "This is the most important letter you have ever received." This week we're abuzz over Ryan Murphy's latest art press incarnation (The North Beach Yacht Club) and its newly minted Hokku Notebook, by Jack Spicer. Here's a teaser: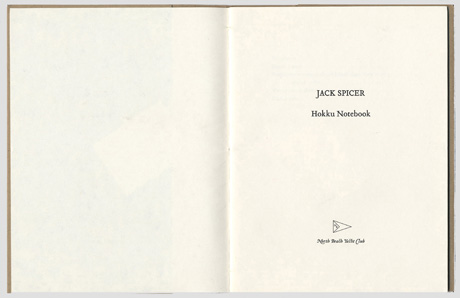 ... And that's all you get. Some things live in print and print alone, so you'll have to do some hunting to find your own (i.e. there is no website). Murphy says, "there is no way to get them but dumb luck word of mouth or to find me, and I generally prefer not to be found. They are simply sent out via USPS into the world haphazardly." His list of careful creations include Ange Mlinko's The Children's Museum (Prefontaine Press), Elizabeth Marie Young's Sonnets (Omahrahu), and Joseph Massey's Within Hours (The Fault Line Press). If the books' elusiveness embitters you, take a cue from Spicer himself. Here's the first poem of this elegant chapbook:
Bitterness
Bitter - ness
People worry more about bitter than they worry about -ness
Worry more about -ness,
Damn you.
Peter Gizzi and Kevin Killian, caretakers of the Spicer estate, selected this one notebook from among dozens. Spicer's use of the hokku contextualizes his developing work in serial forms; his writing "as an Asian" provokes new questions about the designs behind his alter-ego, "Mary Murphy." See the July/August 2008 issue of Poetry for more of the newly-published Spicer work edited by Gizzi and Killian. Check also Geoffrey O'Brien's article on Spicer (and don't miss the embedded slideshow of Spicer's original books, posters, and photos).
But before you go, see below for a few more looks at the gorgeous books you (probably) won't get. When pressed about his thinking behind these printing projects, Murphy replied, "Ahhh I don't know what the hell I'm doing kid, that's the point."
Hell yes. Chalk one for "-ness" and stuff we don't see enough of.