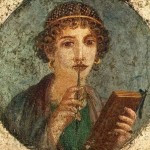 I own a pink skirt, a pink dress, a pink scarf, a pink coat, three pink sweaters, and six pink shirts. Each time I shop for clothes, my eyes wander toward another rose tee, and my fingers fondle another salmon sarong, and I ask myself, Why?
But I know why. I love pink because I am Woman.
Obviously.
The more serious implications of being Woman—and Literary Woman in particular—have lately drawn a lot of press. First, as poet Steve Fellner noted in his blog, men beat out women four to one in the prestigious, and historically male-skewed, Whiting Awards for emerging writers. Second, in a move that attracted much more attention than the Whiting wrong, Publishers Weekly compiled a boys-only top 10 books list of the year. The extended list of 100 best books featured 29 female writers.
In response, Women in Letters and Literary Arts started a list of their own. The purpose is "to note great books by women that Publishers Weekly missed in their all-male top ten 'Best Books of 2009.'" Given that Marilynne Robinson, Alice Munro, and other stars published books this year, the task shouldn't be too onerous. As of today, the WILLA list features so many books that this blogger felt dizzy at the prospect of counting them.
So many books, in fact, that as I skimmed down the page, one of the central mysteries of the issue emerged—a mystery that doesn't necessarily pertain to sexism or feminism, though it might. Why the obsession with listing and besting? Does anyone believe in those lists? Are they just conventions that help readers, writers, and publishers navigate a confusing landscape? (Even if everyone agrees they're just convention, of course, they still matter—they still affect sales and recognition.)
I haven't noticed anyone puzzling over that question, but Lizzie Skurnick of Politics Daily writes a cutting, entertaining meditation on the subject, and Bookslut's Jessa Crispin offers the usual biting sound byte:
Women are making their own lists, with no men on it. That'll teach em! But don't we expect this now from places like Publishers Weekly? The only surprise being that. . .no one at some point said, "We should put a lady on there, or the feminists are going to make a fuss about it" (or maybe they did and the next line was, "Actually, people might read us if that's true").
In unrelated developments that nonetheless appear related, The Guardian has amped up its coverage of Gender across Genres. British writer Joanna Trollope chews on chick lit. Jo Shapcott, who chaired an event called "The Female Poem," raises the question: "Do women genuinely write different poems from men and, if so, what could be said to characterise the 'female' poem?" No one's sure, which seems like the right answer. In her summary of the event, Shapcott proposes advantages of being a female poet:
The panel was convinced that a poet ought to be an outsider. The edge, the discomfort makes for clearer vision. Maureen Duffy reminded us of the audacity and courage of Aphra Behn in this regard. Virginia Woolf pinpointed the feeling of an outsider beautifully in A Room of One's Own: "I thought how unpleasant it is to be locked out; and I thought how it is worse, perhaps, to be locked in."
Abigail Deutsch, the winner of Poetry magazine's 2010 Editors Prize for Reviewing, lives in New York. Her criticism appears in the Los Angeles Times, the San Francisco Chronicle, the Village Voice, n+1, Bookforum, and other publications.