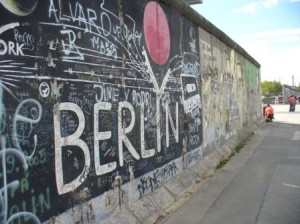 White space criss-crossed yesterday's New York Times opinion page like mortar. Uneven in length and width, stanzas gave the impression of crumbling brick. Poem titles appeared painted on, recalling graffiti.
In light of the endless debate over Whether Good Political Poetry Exists, the commemoration of the fall of the Berlin Wall with a wall of poetry--a throwback to the days when poems regularly appeared in newspapers--gave me a case of the grins. The poetry wall struck me as an editorial eye-roll, a visually complex, literarily ambitious "duh." (Just the same, it's worth bearing that debate in mind while reading these poems, which, like the rough-hewn wall, can feel uneven.)
The poetry wall is an appropriately international effort. American poets Marie Howe, Yusef Komunyakaa, C. K. Williams, Bruce Weigl, and Mark Doty, many of whom write on social and political themes, contributed; so did the European writers Zafer Senocak, Tomaz Salamun, Vera Pavlova, and Ewa Lipska. My favorite piece of masonry is Pavlova's conclusion:
Under 11/09/89,
my diary says:
"Natasha lost a front tooth,
Liza for the first time
stood up in her crib
on her own."
You wonder: had the speaker not yet heard the news? Was she ignoring it? Did she not understand the significance of the day? Or is the point that the significance of such a day lies not in what newspapers report, but in what diaries record, and that these kinds of events are sometimes, but not always, distinct? And if they are, why, and how?
Speaking of "how," Marie Howe—whose poems so gracefully insist on the ordinariness of the extraordinary, and vice-versa—writes that the wall went up, "and that was that. People / lived and died, and married." She describes watching TV, and noting how Berliners "touched the faces of their loved ones / and ran their hands over their heads and hair." Her intimate moments go public, like diary pages ripped out and blown onto the street.
The title of the work by Salamun, a Slovenian poet, is nearly a poem in itself. "Remembrance of a Yugoslav" could suggest that the poem features a Yugoslav's reminiscences, or that the poem remembers a Yugoslav—a gesture, perhaps, toward the idea that since Yugoslavia no longer exists, identification as Yugoslavian survives only in memory.
Take a look, if you haven't already. What do you think of the poems?
Abigail Deutsch, the winner of Poetry magazine's 2010 Editors Prize for Reviewing, lives in New York. Her criticism appears in the Los Angeles Times, the San Francisco Chronicle, the Village Voice, n+1, Bookforum, and other publications.