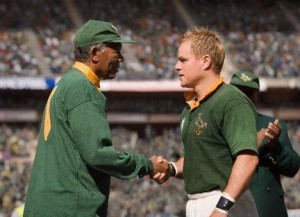 Clint Eastwood's rather long film Invictus shares its title with the rather short poem that inspired Nelson Mandela throughout his years in jail. "They're just words," explains Morgan Freeman, who plays an endearing Mandela during his first days of South African leadership. "But they helped me to stand when all I wanted to do was lie down."
This film about the 1995 rugby match that tested and defined Mandela's authority occasionally made me want to lie down, partly because—like the titular poem—it tends to trumpet rather than whisper. "Times change, and we need to change as well," opines South African soccer captain Francois Pienaar (Matt Damon) to his teammates before sweeping out of the room.
The film does boast an occasional subtle surprise. Preparing for his first day in office, Mandela swabs his chin in white shaving cream, so that South African civil unrest becomes, for a moment, writ small on his face. And when defeated rugby players throw beer cans against a wall—providing percussion amid the cussing—alcohol runs down a bathroom door in a weird waterfall.
If the film's storytelling is a bit lacking, the story behind the film—of Mandela's generosity toward the largely white South African rugby team, who had become for many the symbol of apartheid—is extraordinary. In the movie, Mandela shares the poem "Invictus" with Pienaar, who goes on to lead his team to victory. A tragic irony lurks behind the application of the poem to a rugby match: William Ernest Henley wrote it after tuberculosis necessitated the amputation of one of his legs below the knee. It starts:
Out of the night that covers me,
Black as the Pit from pole to pole,
I thank whatever gods may be
For my unconquerable soul.

In the fell clutch of circumstance
I have not winced nor cried aloud.
Under the bludgeonings of chance
My head is bloody, but unbowed.
For all the poem's confidence, it's electrified by a current of uncertainty ("whatever gods may be"), ("the bludgeonings of chance") that lets it admit the possibility of defeat without admitting defeat itself.
Like Stevens's "Tea at the Palaz of Hoon" ("I was the world in which I walked"), it transforms the self into a dominion that can be "mastered":
It matters not how strait the gate,
How charged with punishments the scroll.
I am the master of my fate:
I am the captain of my soul.
Mastering fate—like controlling a country rife with conflict, or inspiring a team tamped by discouragement—may call for such trumpeting. If only the film had taken more cues from poem, whose implicit self-doubt lends nuance to its cadences.
Abigail Deutsch, the winner of Poetry magazine's 2010 Editors Prize for Reviewing, lives in New York. Her criticism appears in the Los Angeles Times, the San Francisco Chronicle, the Village Voice, n+1, Bookforum, and other publications.