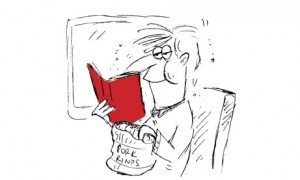 I like the name "Poets House" because—while probably intended to read as the possessive Poets' House—the phrase instead asserts something rather nice about poets. Poets don't just browse and carouse: they house. And maybe, someday, they'll house me.
I took advantage of their generosity earlier this week, when I spent several hours exploring the new Battery Park City site of Poets House. The building, which hugs the Hudson River, hosts an extensive poetry library as well as events and exhibitions. With the help of staffers Jane Preston and Maggie Balistreri, I found some remarkable books, most of which seemed to concern themselves with food. (Perhaps these caught my eye because of the extraordinary hunger that afflicted me during my visit.)
I devoured a thick red paperback of poems by Robert DeNiro ("These poems are by Robert DeNiro, the painter," the book clarifies, "not to be confused with Robert DeNiro, the actor, his son"), chewing on its sometimes questionable stanzas. In a poem called "Stella Artois," DeNiro père writes that in a café,
Behind the greenish lion
One is next to the cinema
The cinema we cry in.
A book from the home of Stanley Kunitz, who co-founded Poets House in 1985, reveals seating arrangements and menus for private dinners. (According to the scrawl within, veal scallopini, rice, bread, salad, and something called "potato whip mixture etc.," or perhaps "prune whip mixture etc.," or even "prawn whip mixture etc.," would fill the stomachs of writers Alastair Reid, Arthur A. Cohen, and other guests one February night in 1979.)
An early edition of the Alice B. Toklas Cook Book provides Toklas's recipes and reminiscences. She served "bass for Picasso" when the artist stopped by the apartment she shared with Gertrude Stein. She'd designed the fish with red mayonnaise, bits of egg, truffles, and fines herbes. "Picasso exclaimed at its beauty," she reports. "But, said he, should it not rather have been made in honor of Matisse than of me." Just what this signifies about the quality of the fish-art is left to the reader's imagination.
The cooking section of the library features such titles as Spud Songs: An Anthology of Potato Poems.
My favorite by far, however, was John Keats's Porridge: Favorite Recipes of American Poets. The title stems from a Browning couplet -- "Who fished the murex up? / What porridge had John Keats?" -- that must also have inspired Galway Kinnell's poem "Oatmeal." Unnerved by the glutinous swamp in his bowl, Kinnell invited long-dead John Keats to join him for breakfast, and enjoyed congenial conversation:
Yesterday morning, for instance, Keats told me about writing the "Ode to a Nightingale."
He had a heck of a time finishing it--those were his words--"Oi 'ad
a 'eck of a toime," he said, more or less, speaking through
his porridge.
So what can we learn from Porridge with John Keats?
It depends on whom you ask. John Hollander's recipe for "Potage du Soir Carroll" instructs: "In 6 qts. of dew, simmer together: a good-sized shank of the afternoon, a peeled shadow, some exhaustion, and a bouquet garni of pillow, litany, oaten stop and, if available, sullen horn." Robert Penn Warren recommends two ounces of Jack Daniels, four ounces of water, two ice cubes, and a half hour "in which to meditate on the goodness of God."
I meditated on that concept over lunch. The menu was cucumbers, curiosity, and regret.
Abigail Deutsch, the winner of Poetry magazine's 2010 Editors Prize for Reviewing, lives in New York. Her criticism appears in the Los Angeles Times, the San Francisco Chronicle, the Village Voice, n+1, Bookforum, and other publications.