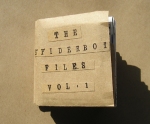 a few years ago, achiote press (the press i co-founded) published a chapbook that included new poetry by Padcha Tuntha-obas and an essay by Alysha Wood titled "Translation as strategy within the work of Padcha Tuntha-obas and other poly-lingual texts."
Since then, "Alysha Wood" has transformed into Jai Arun Ravine, a "trans-identified, multi-disciplinary writer, dancer, visual and performing artist of mixed race who has previously published and presented work under the names Alysha Wood and Woo Wood. Jai received an MFA in Writing & Poetics from the Jack Kerouac School of Disembodied Poetics at Naropa University and a BA in Interdisciplinary Studies from Hollins University. Jai is a proud Kundiman Fellow." Jai is working on a new project that I am very excited about...

The Spiderboi Files. Here's Jai's description of the project:
The Spiderboi Files began in August 2007 after I moved to San Francisco. Having completed an intensive, long serial work that took up the greater part of that year, I was eager to begin writing within the parameters of a radically different practice.

I started by cutting up kari edwards' a day in the life of p. with old journal entries and mashing them with that particular day's experience of being a gender-variant queer stuck in a random mall job in the middle of suburban California. I shoplifted structures from that environment and stole overheard text. I was inspired by the idea of "files" or case studies as segments of a larger whole (The X-Files and Max Wolf Valerio's The Testosterone Files), as well as by the idea of documenting my ongoing confrontations with gender assumption. I also wanted to expose and confuse my own trans-identification with consumer culture's promise of providing the power to choose and create identity.

I decided to write and complete one poem per day in a rather rough and imperfect manner. After several months I had collected about 50 some pages of Spiderboi's journey, a character that draws from the power of the Spider and the Web as well as the popular Spiderman, a young man bitten by a Spider (a symbol of creative, feminine energy) and thus transformed. The super-hero archetype became a way to explore gender transition and gender transformation in relation to the desire to be fully embodied.

In late 2007 and early 2008 I began the process of inking the poems out into panels. I was further intrigued by the idea of a graphic poem-novel and the "Choose-Your-Own-Adventure" novels I remember reading as a kid. I wanted to explore the idea of "choice" in relation to gender (versus sexuality) by placing that choice in the hands of the reader in the exact places in which those choices were difficult for me.

The result is a living document of my first year living in San Francisco and identifying as trans. Through poetry, spoken word, graphic novel, web comic, and hand-sewn chapbook, the web of Spiderboi is the force-field a gender-variant person must build to envelop themselves in the strength that allows for change, individuation and transformation.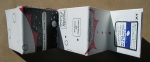 there are a number of things i love about this project: it's artful handbound packaging, the act of unfolding the panel/poems, the engagement between the visual and the textual, the exploration of race, gender, and sexuality. volume 1 includes 5 panel poems, and can be ordered here for $7.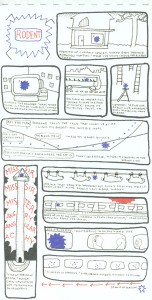 Craig Santos Perez is a native Chamoru (Chamorro) from the Pacific Island of Guåhan/Guam. He is the co-founder of Ala Press, co-star of the poetry album Undercurrent (Hawai'i Dub Machine, 2011), and author of three collections of poetry: from unincorporated territory [hacha] (Tinfish Press, 2008), from unincorporated territory [saina](Omnidawn, 2010),...