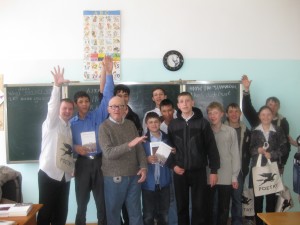 We were recently contacted by the Innovative University of Eurasia (Kazakhstan), who are in need of English-language books and magazines for their reading programs. We sent them copies of Poetry magazine, copies of a poetry anthology, and a few other things. Above is a photo of the special-needs kids who used these materials in their classroom, and below is a note from our contact there.  All this was made possible by our Associate Editor, Fred Sasaki, and helped make April a happy poetry month for us at the magazine!
Dear Fred Sasaki,
On behalf of the administration, pupils and their parents of the special schools # 4 of Pavlodar (Kazakhstan) I would like to express to you and your team genuine gratitude for helping, paying attention to children with special needs.
Your contribution to the special education of Kazakhstan has played a great role in developing and motivating children to advancing their aesthetic and spiritual education.
You are the first organization that aims at enhancing and enriching their intelligence, imagination and memory through Poetry.
We appreciate it.
In the hard times when compassion and unselfish help are rare, people's unselfishness becomes truly priceless and helps us raising a worthy generation, of those who should lead our Country.
Thank you so much for your understanding, participation and sympathy.
It would be great if you and your team visited our country and inspired others to develop themselves through Poetry.
Gratefully yours,
Aitzhan Kulumzhanova
Manager of International Office
Innovative University of Eurasia
Don Share became the editor of Poetry in 2013. His books of poetry are Wishbone (2012), Squandermania (2007), and Union (2013, 2002). He is the co-editor of The Open Door: 100 Poems, 100 Years of Poetry Magazine (2012), and editor of Bunting's Persia (2012) and a critical edition of Basil Bunting's poems (2016). He...