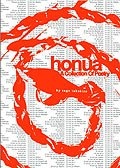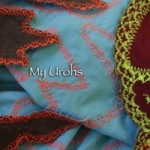 Kahuaomanoa Press, founded in 2007 by poets Brandy Nalani McDougall and Ann Inoshita, is a student-run press on the University of Hawai'i at Manoa campus. They publish work to "increase student interest in literature, creative writing, visual art, and editing," according to their website. This review examines two books from this exciting new press: Honua, by Sage U 'ilani Takehiro, and My Urohs, by Emelihter Kihleng (to purchase these books, click here).
Honua (meaning land, earth, world; the background of quilt design; foundation, fundamental) is the first poetry collection of Kanaka Maoli (Native Hawaiian) writer Sage U'ilani Takehiro and the first book published by Kahuaomanoa Press. Takehiro weaves English, Hawai'i Creole English ("Pidgin"), and Hawaiian language in various forms (from free verse, field composition, and prose poems) to create a mele, or chant, that weaves the political, personal, cultural, spiritual, and ecological.
Honua begins with "Self-Medication," a poem that describes the sad, trance-like state of "The people of Hilo": "They drink alcohol until they feel good. / They take their shirts off and scrap each other in the earth. / They vomit […]" (5). This wasteland portrait of a people sets the stage for the next two poems. From "Kahea Kahi":
If wings are weak, turn

your beak into gray fish gills

swim from sky into sea

call currents of Kanaloa

to carry you—water wind

winding through a world of Kai

You are a shark…breathe ocean water through your skin (6).
The very next poem, "E Hui Pu," continues the theme:
Call all Kanaka

for better or for worse

death doesn't part us

mana never dies

Trace its movements with your tongue

taste its tracks, swallow its spirit

let it carry your eyes

Look at Us

E nana ia Kakou, E 'ike i ka 'i (8)
The chant-like quality of these poems forms the foundation of Honua, as Takehiro traces the movement of her own tongues and lets the mana that never dies carry her eyes. And although I am not Hawaiian and am not being called, I can't help but also be compelled, as an outsider, to witness.
Throughout Honua, Takehiro powerfully critiques tourism, militarism, and racism in Hawai'i. "Vacation on Hawai'i's Big Island" adopts an ironic tone to expose the touristic exploits and expectations of "coming to paradise":
17-year-old Keahi Ho'oulu is pregnant

with her second child; she dropped

out of high school to clean toilets at

The Breathtaking, Fantastic

Hawai'i Volcanoes National Park

Open 24 hours every day of the year!

Forest

of verdant plantlife

dance legendary hula in the

Rain.

Savor succulent exotic hues

of a colorful culture mix that

pampers, restores and heals

Your body and Your Spirit.

Hawai'i's whole culture

is based on Aloha—

and that's a commitment we take

Very Seriously. (34)
Takehiro cuts through the "Aloha Spirit" to reveal a darker moment of Hawai'i's tourist industry. Honua subverts the idea that Hawaiian culture is based solely on "Aloha" by showing the deeper foundations of the Kanaka Maoli. In "Progess at Pohakuloa," Takehiro addresses militarism, specifically a Hawaiian soldier who joins the U.S. military:
You go explode your spear in Iraq, Hawaiian Warrior, and I will cast my pen and fling stones with my tongue—either way, we move forward. Without you I stand alone in this beautiful part of Pohakuloa, giving a braided ti-leaf lei in lamentation for the dirt under this American Military Training Camp.
This "Hawaiian Warrior" guards the entrance to the training camp and says, "'No can survive if we go back to da ancient days.'" The speaker counters by asking him how he wishes his children to see the land they come from. Climactically, the speaker exclaims:
But you are generous; you give your mana to them, eager to fight the battle in your blood. "I am proud to be Hawaiian," you say. Say it again. Say it everyday. Say it loud so she can hear you. Papahanaumoku brought me to Pohakuloa to trespass against the illegitimate Federal Property that you guard firmly. She brought me here to cry to you that you would say, "I am proud to be Hawaiian" (35).
We hear Takehiro's desire to call her people into action and pride, echoing from the other chants and rising from the dirt. She manages to create a political poetry firmly rooted in political sentiment without abandoning aesthetic complexity. We can note how the repetition of "Say it" recalls the "calling" from earlier poems, creating an inter-poem call-and-response.
Another powerful element of Honua is Takehiro's ear for pidgin and eye for engaging narrative. In "Ho Cuz," the speaker tells us about "Chico Boy," who gets into a drunken fight with "Sean Sometin', Puna Boy" at a "pahday":
Nex morning Chico call up Jonny on da phone

all hanging, "Jonny, brah, wea da fuck my tooth stay?"

Jonny wen tell 'um, "Eida stay on da side of the road out Pohaku

or you wen eat dat fucka, cuz boi, you wen catch mean cracks.

I had fo' fucken pound tree guys cuz of you last night, you fucka."

Right dea, Jonny call me today buss laughing, "Brah,

Chico jus wen call me up fo' tell me

had only one, bug, white corn in his shit. He was like

'Why I get corn in my shit, I neva eat corn.' So he wen look

moa close, was his fucken tooth!" I trip. (13)
Other poems in pidgin, such as "Suicidal Reflections" and "What Stoners Think About When They're Getting Stoned," adopt convincing personas. In these poems, Takehiro creates natural voices and compelling stories that absorb the reader's attention.
Throughout Honua, Takehiro braids languages, stories, and forms to articulate the complex experiences of cultural identity, colonialism, and self-determination in Hawai'i. Honua rises from native Hawaiian dirt and provides a foundation for mele to rise further into the "vocabulary of the sky" (57).
While Takehiro's book focuses on Hawai'i, Emelihter Kihleng's My Urohs migrates between Hawai'i, Guam, and her native Pohnpei. According to one of the many footnotes in My Urohs, Urohs is a Pohnpeian skirt, the quintessential dress for women at special events. In the title poem, the dress transforms into a feast, a singing woman, a funeral, a matriarch, a lei, a basket, and finally the speaker herself. Just as various patterns are woven into the urohs, Kihleng's first collection weaves the personal and the ethnographic, the poet and the witness.
One pattern in My Urohs is a depiction of Kihleng's everyday, diasporic experience. In "Kool-Aid," Kihleng describes a mixture of ajinomoto (MSG), soy sauce, salt, and unsweetened kool-aid powder eaten throughout the Micronesian Islands:
doesn't taste good here in Honolulu

I wanna eat it sweating in the heat,

sitting on a rock,

under a guava tree

with my red-fingered friends

dip, dip our green mango

lick, lick our fingers

tongues turning dark red (13)
This simple poem captures the speaker's nostalgia to the smallest "lick, lick," the repetition beautifully depicting the rhythm of this simple act. Despite its simplicity, we feel the speaker's sense of loss at finding "Kool-Aid" far from home and realizing it doesn't taste quite the same. In "A Meal Fit for a Soupeidi," Kihleng again shows her skill for capturing small moments:
tonight Nohno Yoko, Kadreen and I

ate makirehl mixed with karer tik and sohl

mahi piaia and drank upw

iou douluhl,

delicious. (36)
Kihleng writes seamless bilingual poetry in Pohnpeian and English; the poem above refers to a simple meal of canned mackerel, limes, and salt in addition to breadfruit cooked in coconut milk and sugar. The tenderness and intimacy of the poems provides a delicate counterpoint to the larger thematic poems that pattern a majority of My Urohs.
Kihleng powerfully explores the political situation of Micronesians in general, and Pohnpeians in particular—ranging from the war in Iraq, AIDS in the Pacific, Micronesian migrant workers, alcoholism, and education. For example, "Destiny Fulfilled?" describes a Christmas care package that the speaker sends to a childhood friend in Tikrit. The package includes a CD called Destiny Fulfilled by hiphop group Destiny's Child:
the CD a small distraction from falling bombs

i've thought about the hit song "Soldier" being on a CD

titled Destiny Fulfilled

wherein women are described as needing thug soldiers

to protect them

soldiers who "carry big things if you know what I mean"

my friend is a petite soldier

she is a citizen of the Federated States of Micronesia

"freely associated" with the United State of America

she could die for America

our friendly thug soldier

that continues to decrease its Compact Aid

to its "Coalition of the Willing" Island Nations
The poem continues to document the tragic deaths of soldiers from Micronesia, highlighting the high recruitment rate of Pacific Islanders who "[sign] away their freedom / on islands seized by 'liberation' / 60 years before" (7). The speaker embeds her critique within the personal story of her friend, which gives the poem a poignant emotional context.
Similarly, Kihleng captures the lives of Micronesian migrant laborers in a three-part poem titled "Micronesian Diaspora(s)." The first part is an interview in Pohnpeian and English with a factory worker on the island of Saipan. The second section ("Dreamers") presents a number of voices, from laborers to employers to activists: "you can import maybe a thousand a year, / and you don't have to worry about a quota system. / they can fill any labor shortage you can find"; "when we can, me and my sister / we only have our slipper on our feet / no clothes and when we got to the / apartment we cry and cry" (19). The third section ("White House") describes what seems to be an American hospital and the speaker's sadness and surprise at all the pain, suffering and loneliness, despite America's wealth. Throughout, Kihleng's political poems remain grounded in the personal, either through her experience working with AIDS education or her work teaching English in Pohnpei.
My Urohs is a profoundly textured book, with poems spanning diverse relationships, personal memories, social issues, and Pacific geographies. Kihleng's sense for intimate details and ethnographic contours creates a poetry of lyric and witness, narrative and protest.
In Hawaiian, "kahuaomanoa" means the fruit and foundation of Manoa. Kahuaomanoa, then, is an apt name for this press as the editors have chosen and given to us such beautiful fruits of poetry. By publishing such powerful books, they have created a solid foundation from which to grow as a press and continue to provide a venue for young poets in Hawai'i. Keep your eyes on this press; I believe they will profoundly shape the direction of Pacific Islander literature and publishing.
Craig Santos Perez is a native Chamoru (Chamorro) from the Pacific Island of Guåhan/Guam. He is the co-founder of Ala Press, co-star of the poetry album Undercurrent (Hawai'i Dub Machine, 2011), and author of three collections of poetry: from unincorporated territory [hacha] (Tinfish Press, 2008), from unincorporated territory [saina](Omnidawn, 2010),...