in the last two days, i've skyped with 3 classes, the first being an "ecopoetics" course (reading my first book) at pacific university in oregon, and the other two being "oceanic literature" courses (reading my second book) at the university of hawaii, manoa.
the ecopoetics course: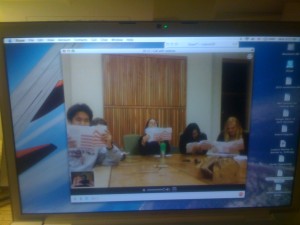 at AWP, i talked with a few people about skyping, its potential and downfalls...
obviously, the best thing about skype is the ability to engage with students (and for students to engage with poets) when i am not able to travel to their schools (in the span of 24 hours i talked with students in HI & OR). plus, it's a great way to bring technology into the classroom and for the students to hear a live reading and to ask questions about the reading/work (as opposed to simply listening to a poet's work on pennsound, for example).
the downside, in almost every skype visit i've done, is the poor sound quality. especially if it's a big class in a big room, it's really hard to hear the students questions/comments (so i am often asking whoever is sitting near the computer to repeat the question). another downfall is that the visual quality is rather poor in a classroom setting...i mean that i cant see anyone's face clearly so it's hard  to gauge reaction at times. in that sense, a skype visit feels much less intimate.
class in hawaii discussing second book: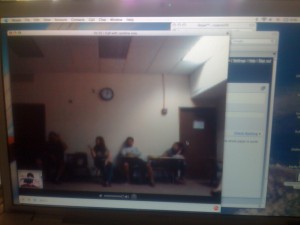 all in all, i think the positives outweigh the negatives--and i look forward to skyping with more classes in the future.
Craig Santos Perez is a native Chamoru (Chamorro) from the Pacific Island of Guåhan/Guam. He is the co-founder of Ala Press, co-star of the poetry album Undercurrent (Hawai'i Dub Machine, 2011), and author of three collections of poetry: from unincorporated territory [hacha] (Tinfish Press, 2008), from unincorporated territory [saina](Omnidawn, 2010),...