it's true, i was just in seattle on thursday, just for twenty four hours. at 3 pm, i did a reading for the "4th Annual Chamoru & Micronesian Research Conference" at the University of Washington. i read in the "Native Room" at the school's Ethnic Cultural Center. there were about 20 students from the Micronesian Islands Club and the Polynesian Student Alliance. after, the cohort of Chamorus and others went out for a drink: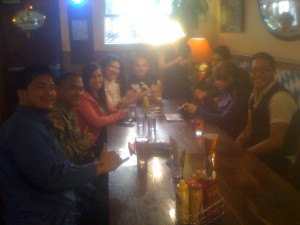 there are many pacific islander students at University of Washington, so it was quite exciting to meet and share my work with some of them.
then at 7:30...
i went to Open Books to read with Don Mee Choi. Open Books is now one of my favorite places in the world: an entire store dedicated to poetry books! drool. the exciting thing for those of us who dont live in seattle is that you can actually order books through their website!
so i read first and had to stare down the barrel of the audience: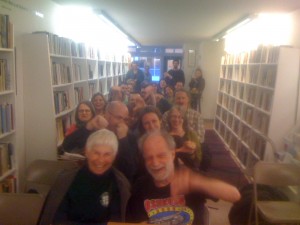 i was happy when my set was over so i could relax and hear Don Mee Choi read from her brand spanking new book THE MORNING NEWS IS EXCITING (Action Books):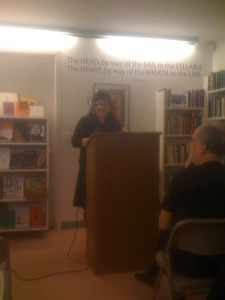 she's a fantastic reader...and the book is another gem from Action Books (sorry for the blurry picture):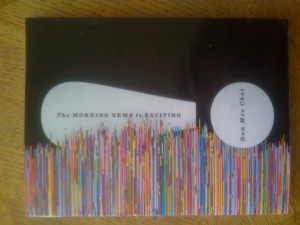 thanks to everyone who came to the reading! and thanks to the Open Books for hosting us!
then i woke up early and caught a morning flight back to oakland, just in time to make it to a Native American Studies course at UC Berkeley that just finished reading and discussing my second book. before class started, two students starting fighting over my book! see: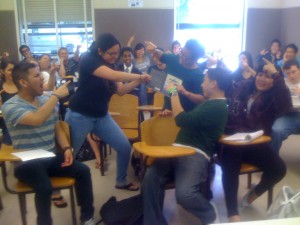 i swear berkeley students are just crazy! after the dust cleared, we had a very pleasant q&a. thanks to profe dougherty for having me! and thanks to all those poor students who were forced to read my book...esp the group who had to present on my book! suckers.
then i drove over to omnidawn headquarters to sign some copies of my books that were about to be shipped. one of the editors, cassie smith, showed me her AWP bounty: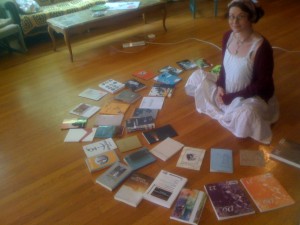 strange, yet charming. then i signed a stack of books: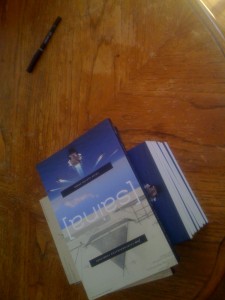 april is indeed the cruelest month. good night.
Craig Santos Perez is a native Chamoru (Chamorro) from the Pacific Island of Guåhan/Guam. He is the co-founder of Ala Press, co-star of the poetry album Undercurrent (Hawai'i Dub Machine, 2011), and author of three collections of poetry: from unincorporated territory [hacha] (Tinfish Press, 2008), from unincorporated territory [saina](Omnidawn, 2010),...