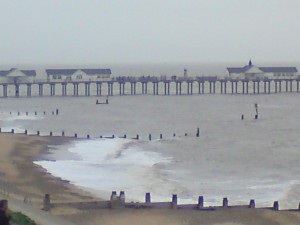 Do you sometimes feel you haven't reached your full potential?
Are you caring and thoughtful?
Are you sometimes relaxed and confident in company – but other times shy and repressed?
Questions you will face in The Booth of Truth.
Some days after reading Daisy Fried's post on the nerd poet, I found myself in the Under the Pier Show, a place that is a nerd poem of the low-budget English kind: clunky mechanics, amateur theatrics and a galumphing kind of charm. On Easter Bank Holiday Monday (wind and rain a given, see above) we visited the pier in Southwold, Suffolk, with our three daughters, aged 14 to 22. These girls of the Avatar age were delighted by the Instant Eclipse, the Microbreak, Cycle-Pong, Bash the Banker and the Auto-Frisk. They forgot themselves – we all did.
Poets find it harder than they imagine to set dignity aside, to get over themselves, and to allow an image or phrase because it nails something even though it entails a loss of cool and is abrasive or crude in a way that will make everyone cringe. I'm not talking about cheap thrills, cabaret or the comic relief of irony or bathos, or sloppiness passed off as subversion, or a cartoonish response to the embarrassment of the big subject. These are all safe to perform. Do something in a poem that makes you wake up in the night and blush.
Or, like me, subject yourself to the Booth of Truth, which started life at a science festival as a serious examination of how clairvoyant readings work. You enter a space smaller than a phone booth and  kneel in front of a darkened mirror. The doors trundle shut, lights blink and whizz, and you stick your hand in a slot where it's cautiously pummelled. What happened next is between me and that mirror. I'll say only that it was twenty pence well spent.
Lavinia Greenlaw has published three books of poems, most recently Minsk. Her two novels are Mary George of Allnorthover and An Irresponsible Age and she has also published a memoir, The Importance of Music to Girls. Her work for BBC radio includes programs about the Arctic, the Baltic, the solstices...