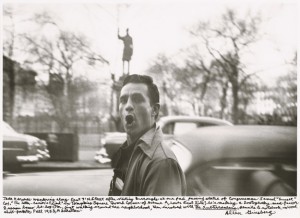 Allen Ginsberg once said, "I do my sketching and observing with the camera."  Now you can see the results - online highlights from the National Gallery of Art's new exhibition, "Beat Memories," can be viewed here.
From the introduction:
One of the most visionary writers of his generation and author of the celebrated poem Howl, Allen Ginsberg (1926–1997) was also a photographer. From 1953 until 1963 he made numerous, often exuberant portraits of himself and his friends, including the Beat writers William S. Burroughs, Neal Cassady, Gregory Corso, and Jack Kerouac. Eager to capture "certain moments in eternity," as he wrote, he kept his camera by his side when he was at home or traveling around the world. For years Ginsberg's photographs languished among his papers. When he finally rediscovered them in the 1980s, he reprinted them, adding handwritten inscriptions (transcribed for each work in this slide show). Inspired by his earlier work, he also began to photograph again, recording longtime friends and new acquaintances.
Ginsberg's photographs form a vivid portrait of the Beat Generation, a term that came to describe a group of young people who rebelled against the materialism and conformity of middle-class America and embraced a lifestyle that promoted freedom, sexual openness, spontaneity, and speed. Yet Ginsberg's photographs are far more than historical documents. The same qualities that governed his poetry—intense observation of the world, deep appreciation for the beauty of the vernacular, and faith in intuitive expression—also permeate his photographs. Drawing on the most common form of photography, the snapshot, he created spontaneous, uninhibited pictures of ordinary events to celebrate and preserve what he called "the sacredness of the moment." With their captions, which often reflect on the passage of time, Ginsberg's photographs are both records and recollections of an era.