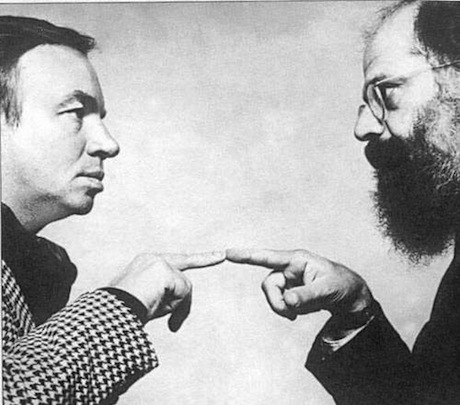 Andrei Voznesensky and Allen Ginsberg
From the New York Times obituary for the Soviet era poet:
Voznesensky was one of the so-called ''children of the '60s,'' a generation of thinkers who tasted intellectual freedom during the post-Stalin thaw. His unusual rhymes and bold metaphors contrasted sharply with other Soviet poetry.

Voznesensky quickly won admirers abroad when he was allowed to travel to Europe and the United States in the 1960s, meeting Allen Ginsberg, Arthur Miller, Marilyn Monroe and Robert Kennedy.

His innovative verse thrilled readers but irked authorities and was criticized by orthodox Soviet writers. Soviet leader Nikita Khrushchev once threatened to exile him, yelling at a him during a meeting with Soviet art and literary figures . . .