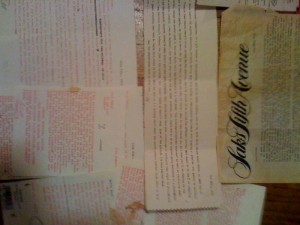 I recently paid a visit to Thom Donovan's blog Others Letters, which intends to reproduce correspondence between writers or between writers and artists. I immediately began to consider which of my correspondences (if any) would be worth reproducing. The only one I've ever kept assembled as it appeared was with the artist Will Yackulic.
Will left San Francisco for NYC in the summer of 2005. The first letter is dated July 26th of that year, and the last letter I have received is dated Dec. 27th, 2009. There are 35 in total. My letters to Will are usually one full page, typed and single-spaced, and they were always written in one sitting. Almost all our letters to one another are typed, the only exceptions being when we were not writing from home.
Will had been using a typewriter very prominently in his work at one time, pulling the paper through the carriage at unheard-of angles, producing perfect (perforated) edges along the outsides of floating spheres. A field of periods beneath the sphere would appear to be undulating -- moving ground or wet sand. It seemed he could get any kind of line he wished from a wide carriage typewriter. Ideally, this correspondence would be available alongside the larger works he had framed and sold around this period. (2008-2009)
The letters contain many tiny studies of techniques Will used in his show pieces. In one letter, he writes, "I figured out that you could make a really convincing mushroom cloud with parentheses & the backslash if I just keep adjusting the paper. I'll show you." Letters were the perfect arena in which to try new techniques. I felt myself loosening into prose sentences and not hating them immediately afterward.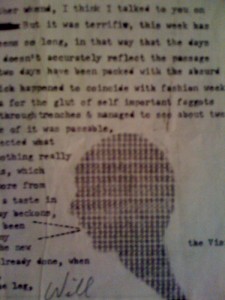 The least a writer can possibly do in a letter is a bit of inventory, and if you have even the slightest regard for the person, the tone picks up from there. I'm hesitant to revisit the correspondence in any literal way (like counting the pages), as it begins to feel like peeling back the floorboards of your most familiar favorite room You are free to see the life behind the work, informing it, mixing it up.
I once said in a recent talk that it's the way we live between our works that ensures our success. Having Will's letters is like owning his intermittent four-year diary (with several engravings). Maybe that's part of why I hesitated to read through it again. Instead, I called Will and we read each other bits from the letters over the phone. I was surprised by the speed my line had gained – it became apparent through hearing the work in his voice -- and thought of Charles Olson: "One perception must immediately and directly lead to a further perception." Which is also very much like having a great conversation.
A correspondence can be the only way of airing out your work. You don't even know you're doing it. The pages only pile up for the recipient, so you never have any sense of the work as a whole. You are writing works you never plan on seeing again. To revisit them is a luxury, especially as they pertain to craft.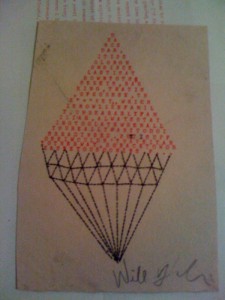 When I read letters by other writers that have been collected, they seem to make a world more than a book. You get deeper into your manner of address because of the privacy a long correspondence can afford. One letter dated August 11th, 1892 begins, "Dear Cedar, I learned the truth, the truth of the words, the truth is the words aren't worth their weight in truth, words are worth their weight in a fiction which reveals the truth."
Re-reading the letters, I find them very searching and charismatic. They possess the same tone of familiarity one strikes when making a poem or drawing on the occasion of someone's birthday. Your feelings almost rush to the surface in advance of the act, which makes it feel easy to do. A lot of my finest thoughts on writing first appeared in correspondence. Occasionally I have to search my email for well-worded thoughts that I know are bound to ignite another paragraph. In the end, you each only have what the other has written. I hope mine won't get lost or stolen or burned. I want to see what else I wrote.
San Francisco poet Cedar Sigo was born February 2, 1978. He was raised on The Suquamish reservation near Seattle Washington and home schooled from the eighth grade onward. In 1995 he was awarded a scholarship to study writing and poetics at The Naropa Institute in Boulder Colorado where he studied...