Matthea Harvey, a poet whose work abounds with visual imagery, is also a regular contributor to jubilat, Meatpaper, and BOMB. She joins the Poetry Foundation and the Art Institute of Chicago for a reading next Thursday, January 13. Harvey chatted with us about her favorite poets, musicians, and critters, as well as a holiday spent at the Art Institute.
***
What line or poem do you find yourself sharing again and again?
First you must fall
in love with what you can't
understand. The baby ram butts the shiny tractor.
"First You Must," Dean Young
On your bookshelf but unread:
The Michelin Man's First Hundred Years by Olivier Darmon.
Can you remember the first poem you read and really liked?
"Bed in Summer" by Robert Louis Stevenson.
A cause you would attach your name to:
The Delta Society (an organization devoted to "improving human health through service and therapy animals").
The picture that comes to mind when you hear the word "poetry":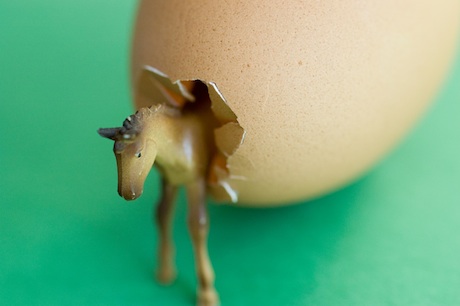 (A photograph I took based on a third grader's quote: "Poetry is an egg with a horse inside it.")
If forced to quote your own writing, what line or poem would you provide?
Hmm. That's hard. I guess this one, since it's very short:
A Theory of Generations
You're it.
You're it.
You're it.
Expression you greatly dislike:
The war on terror.
The longest amount of time you've gone without writing [creatively]?
Four months.
Favorite public figure:
Can I pick a few? Or make a hybrid favorite out of Charlotte Gainsbourg, Rufus Wainwright, Knut (the polar bear at the Berlin zoo) and Marcel the Shell?
Favorite literary device:
When I think of Chicago, I think of:
Having Thanksgiving dinner in the cafeteria of the Art Institute in the eighties…(before my family started celebrating Thanksgiving).