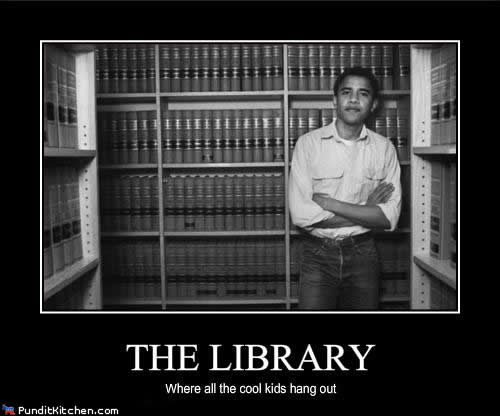 So, poets: how do printed copies of your books end up in libraries? Do they end up in libraries?
What's even going to happen to libraries? There have been plenty of stories lately about how libraries are changing, and that some—like this one in Newport Beach, California—might soon stop housing books, because a "transition toward an all-electronic library is being nudged along by budget cuts." See also this story about how libraries soon may cease to exist altogether because they "make no sense in the future."
For the moment, brick-and-mortar libraries continue to exist, and are still great places to get actual printed-on-paper-and-bound books. So it might be of interest that an organization "founded by current and former public library employees" called Hey Small Press! now exists too, and that their mission is to promote "independent publishers to public libraries all over the United States" with the aim of encouraging "libraries to acquire small and independent press books." You can read all about how they plan to go about achieving that excellent goal on their site. If you are a librarian, for instance, they will explain to you that "Adult literacy and library membership are at all-time highs" and that "Despite all the doom and gloom, books are doing just fine," and finally that "Small presses are producing amazing books that we know your patrons will love." If you are a small press publisher, they will tell you how to "introduce your press to us and let us know what books you have in the works." And if you are a reader, they will invite you to "Subscribe to our newsletter to receive a list of upcoming titles from presses all over the country. Then, with list in hand, head to your nearest public library."
Regardless of your thoughts on what Nicholson Baker calls "the assault on paper," or your optimism or pessimism regarding the future of the book, you can still enjoy the decadence (or not!!!) of your chosen art form secure in the knowledge that smart, committed people are out there cultivating love for good books and working hard to get more of them on library shelves. Just thought you should know.
Kathleen Rooney is a founding editor of Rose Metal Press, a publisher of literary work in hybrid genres, and a founding member of Poems While You Wait, a team of poets and their typewriters who compose commissioned poetry on demand. She teaches English and creative writing at DePaul University and is...