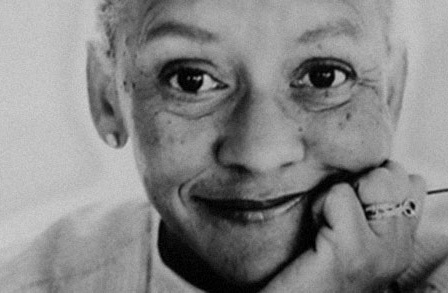 Nikki Giovanni will at the Harold Washington Library in Chicago next Saturday in celebration of National Poetry Month. She took a few minutes to talk about her favorite books, poems, and people.
What line or poem do you find yourself sharing again and again?

Mostly I find folks really like and relate to lines from "Ego Tripping." I think it may be my swan song.
On your bookshelf but unread:

The books I now collect are read and cherished. I read electronically so there is nothing on my bookshelf unread. Right now I am researching cancer so I am reading The Emperor of All Maladies. Song Yet Sung by James McBride is a great recent favorite of mine. I've read it three times and am still finding things I overlooked.
Can you remember the first poem you read and really liked?

My mother used to read my sister and I from Robert Louis Stevenson. I always loved "Where Go the Boats" because I dreamed of journeys to places unknown.
A cause you would attach your name to:

Civil rights. There are still so many people who are being silenced for a variety of reasons. We still need a strong civil rights voice. I am a proud lifetime member of the NAACP.
The picture that comes to mind when you hear the word "poetry":

Poetry is the bottom line when it comes to accolades. I think 'high praise' when I hear "that is poetry in a bottle" or "that is poetry in motion" or a comparison of anything to poetry.
If forced to quote your own writing, what line or poem would you provide?

I would decline.
Expression you greatly dislike:

I dislike "role model" a lot.
The longest amount of time you've gone without writing [creatively]?

I am creative because I am always learning.
Favorite public figure:
My favorite public figure is Nancy Pelosi.
Favorite literary device:

My favorite literary device is truth.
When I think of Chicago, I think of ___________.

My good friend Morris Gearring and the great steaks and great conversation we have shared.