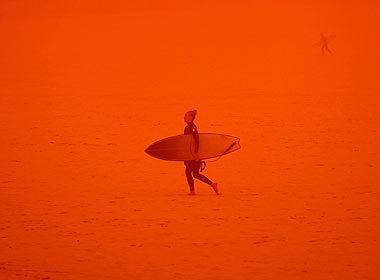 Gillian Conoley's prompt has stayed with me since she first posted the question about the poet's palette. It merits a more creative approach to a response. Since my forthcoming book is called Black Blossoms I guess the answer is an easy one for me: my palette's colors are dark, always have been--black, blood-red, bruised blue. The lens, painful, but my view of the world.
(dedicated to Steve Fellner, who's really good at this)
A quick word search on Black Blossoms:  black magic, blackest mushrooms, turning black, black yawn, black dress, black flower, turned its black, blackbird, black weed, autobiography of red, red shirt, red lake, bloody bed, bloodied, plumes of blood, blood-shot mirrors, menstrual blood, in my blood, blue grave, blue hands, divide the sky, bruised his mother's cheek...
*
Once a woman came up to me before a reading, all excited about having discovered a Latino poet she wanted to invite to her school, where so many young Latinos needed role models like me yadda yadda yadda, poetry is better than joining a gang yadda yadda yadda. I took to the podium, went at it with my series of mortician poems. At the end of the reading I was looking around for the woman to give her my contact information and the event's host said to me, "I think you scared her away. She ran out of the room in the middle of that poem about the mortician banging the corpse."
*
The first poem I remember writing was called "Cemetery Dog" because in high school we were forced to write poetry and my inspiration came from the neighbor's German shepherd that howled at ambulance or police sirens. In our barrio that was every night. This was 1988. The first poem I wrote in college also featured a cemetery and I only remember the phrase "uproot the dead" because my poetry instructor kept going on and on about how cool it was. The last book I finished ends with a cemetery image ("each sad memory/ like a headstone in a cemetery where nothing remains buried"). Now that I think about it so does the book before that: "in the village without headstones,/ without history, without names and without ghosts." Goddammit, I should move out or start paying rent to the groundskeeper.
*
Death is the answer to every question:
What do you write about?         I write about death!
What are you working on?         Another book about death!
What are you currently reading?     Death!
What do you want for lunch?     A death sandwich!
*
Blame el Día de los Muertos and its marigolds setting the graves on fire. Blame my abuelita and her wailing at my mother's burial, each cry piercing another hole in my skin. When the night sweats came I thought it was my body dissolving into tears. Blame the peace in el panteón, the child running barefoot and leaving tiny footprints like petals on the soft soil. Blame the man who collected them in his broom made of twigs, and who offered them to me when he saw me weeping over a blue grave. Blame the unexpected embrace, the kiss behind the neck that reminded me how pretty things could blossom there among the grief.
*
I started wearing black in college because it was slimming. And I hung out with the Latino Goths though I never really considered myself a Goth because I couldn't afford the make-up or the snappy haircuts. But I was allowed in because I wrote those poems about spiders and suicide. Whenever we went out to the club and everyone dressed up I was the designated photographer and it made me feel special anyway, locking my friends inside the box of the camera lens. It felt better than the time I was too chubby for the elf outfit during a Christmas recital in fifth grade. So the teacher asked me to show up in a green shirt. I was placed at the edge, behind all the cute little Mexican elves, and when parents took pictures I knew they were cutting me out of the frame. And then the teacher came up to each of us with the microphone and asked us what was our Christmas wish. And by the time she got to me I was so red-faced all I could think to say was, "I wish you all to hell."
*
When will you stop writing about death?        When I die!
Rigoberto González was born in Bakersfield, California and raised in Michoacán, Mexico. He is the author of several poetry books, including So Often the Pitcher Goes to Water until It Breaks (1999), a National Poetry Series selection; Other Fugitives and Other Strangers (2006); Black Blossoms (2011); and Unpeopled Eden (2013), winner of a Lambda Literary Award. He...