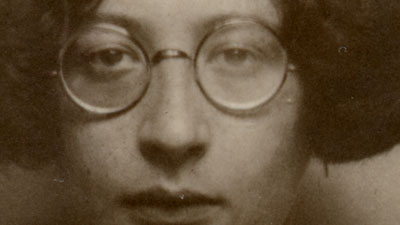 In a post at the Los Angeles Review of Books, artist and writer Chris Kraus looks at a new biography of philosopher and mystic Simone Weil, written by Palle Yourgrau and published by Reaktion Books. Weil, a force to reckon for many thinkers and poets, from theater artist David Levine to poet Edward Hirsch, also composed her famous response to the Iliad in the midst of WWII. Naturally, that is not all there is. Kraus notes that "[Yourgrau] ... proceeds to enact a comprehensive philosophical reading — to my mind, the first — of Weil's work." (Kraus also found Francine du Plessix Gray's 2001 Weil biography to be "stunningly dismissive.") The point has merit, as Kraus discusses Yourgrau's assertion of Weil's kinship with Nietzsche and Wittgenstein, her fascination with Greek thinking and algebra, and her malheur (defined here by Kraus as "bad happiness, or affliction"): "Weil's malheur is not a penchant for masochism but a philosophical process of emptying, similar to those described by Pascal and St. Augustine." Yourgrau also deals with Weil's detractors:
More controversially, there is the issue of Weil's Judaism. While scholar Rachel Brenner described Weil as "unable to accept herself as a Jew" and Jeffrey Mehlman as "a Jew who switched sides" and turned "profoundly anti-Semitic," Yourgrau sees a proximity in her writings on Judaism to Elaine Scarry's notion that the New Testament enacts a symbolic inversion of the body in pain. To Yourgrau, Weil's refusal to accept the Jews as the Chosen People is not anti-Semitism. Rather, in the context of Nazism, "faced with a new dawn of nations rising up to claim their birthright as the 'Chosen People' … Weil, the philosopher, is searching not for a means to destroy them, but for the very meaning of destruction, of force." Writing in her notebook that the Nazi invasion of France was "a great day for Indo-China" was not proof she "despised herself for being a Jew," but rather, in Yourgrau's view, a statement against tribal nationalisms of all kinds. Quoting an essay by David Reiff, he notes Weil's acute, timely sense that "different people are occupying the same space but living through different historical epochs."

In a fascinating discussion of eating, perception and transubstantiation, Yourgrau examines an aphorism coined in the Gravity and Grace notebooks used often by Weil's detractors as proof of her alleged anorexia: "The great trouble in human life is that gazing and eating are two operations." She was, he points out, discussing the Platonic notions of Beauty and Good, not the consumption of pizza or hamburgers. "The beautiful," Weil wrote, "is that which we desire without wishing to eat it. We desire that it should be." In ontological terms, eating is an act of everyday violence. Drawing on the work of philosopher Leon Kass, Yourgrau explains that to eat means, in fact, "the willingness to homogenize and destroy the world … to swallow and turn it into oneself." To eat is to consume the other — we eat our friends and lovers. Gazing, on the other hand, is an act of attention: of allowing ourselves to be penetrated by things outside ourselves without diminishing their integrity. . . .
The review entire can be found here.