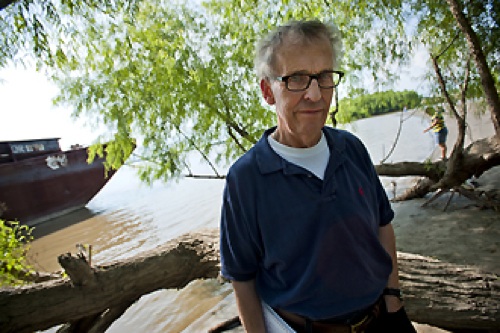 Poet and Tulane University professor Peter Cooley is broadening his poetic efforts in a new collection entitled Aftermaths, which will involve traveling to small towns in Louisiana and interviewing people about their thoughts after Katrina and the Deepwater Horizon oil spill disaster. The author of eight collections—the most recent a three-part book of poems on Rembrandt, Rodin and Michelangelo, which necessitated trips to France and Italy—Cooley "is challenging himself with this new project" and staying closer to home. Tulane's blog has more:
"I am going to extend the personal into a larger context, to write about something other than just me, which is, of course, my favorite topic, as it is for the students," Cooley says with a chuckle.

He is intentionally tackling "more socially conscious" poetry.

He admits that it scares him.

"Socially engaged poetry that is bad is really bad," says Cooley, who has taught creative writing at Tulane since 1975. But taking poetry from the personal to a broader perspective is something he wants to tackle. For him, writing is a journey.

"As a writer, it's important not to get too comfortable. That's the whole point of doing it, isn't it? If you know what you want to say, why would you write a poem?"
You can read Cooley's "The One Certain Thing" here.